Shards of Hope Audiobook

By:
 Nalini Singh
Narrated by: 

Angela Dawe
Published by: Tantor Media 06/02/2015
Hot


Psy/Changeling Series #14
15 hrs and 41 mins
Shards of Hope Audiobook Sample
Shards of Hope Audiobook

4.5 Hearts
After listening the previous book, Shield of Winter, which featured one of the upper echelon of the Arrows squad, I was very excited to listen to Shards of Hope, which features Vasic's best friend and leader of the Arrows, Aden. If you aren't familiar with this series, the Arrows are an elite squad of soldiers who are part of the Psy race. Not only are they great soldiers in a physical capacity, they also have great psychic powers. All the Psy have lived their lives under a strict code of Silence, where they bottle up all their emotions to help the race control their powers.
Shards of Hope starts not long after the previous book. Silence has fallen and not all of the Psy are dealing well with it. The Arrows have it really tough because they usually had very powerful psychic powers, they needed Silence more than most to help control their powers. Most have been in a strict military setting since they were as young as three. It is hard for some of the older Arrows to start to show their feelings. The Arrows start working to build a more family and community for them to live and train in, instead of barracks and compounds.
Early in the book, Aden and Zaira, who has been close to Aden since they were children and is now one of his best Arrows, are captured by a group of humans, Psy and Changelings. They do escape and end up with a Changeling group that we haven't met before. Aden gets a chance to see how the Alpha leads, teaches and interacts with those in his pack.
I loved watching Aden learn how to lead the Arrows in this new family environment. He has to learn how to teach the kids to play. There is also dealing with teenagers that are now allowed to react to their hormones. He is also trying to create family units with children living with older Arrows.
While this series is a paranormal romance, it reads almost more like an urban fantasy to me especially when both characters are Psy as they have a much slower built toward romance. There is a new couple in every book, but it has a very strong series arc. I've read several romance series where you can come into the series in the middle and not have any issues with the overall story. I wouldn't recommend coming into this series in the middle of the series. I think the overall story would be lost.
Narration
4 Hearts
I still enjoy Angela Dawe's narration. She doesn't blow me out of the water the way some other narrators do, but I think she does a great job. I also think she is perfect for this series. She does a great job going between the feelings of Changelings and humans to the coldness of the Psy. You can even feel the Psy warming throughout, not just the each story as the romance builds between the characters, but also I think the warmness of the Psy is increasing book to book as Silence falls.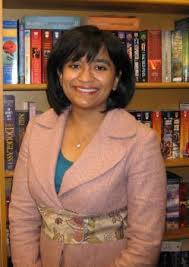 I've been writing as long as I can remember and all of my stories always held a thread of romance (even when I was writing about a prince who could shoot lasers out of his eyes). I love creating unique characters, love giving them happy endings and I even love the voices in my head. There's no other job I would rather be doing. In September 2002, when I got the call that Silhouette Desire wanted to buy my first book, Desert Warrior, it was a dream come true. I hope to continue living the dream until I keel over of old age on my keyboard.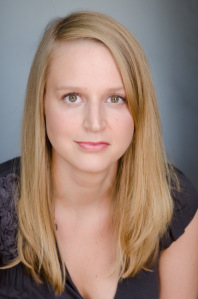 Angela Dawe is an audiobook narrator and actress living and working in Chicago, Illinois. Winner of several Earphones Awards from Audiofile Magazine and narrator of two Audie-nominated audiobooks, Angela is also an accomplished improviser/sketch comedian, and has worked with such theaters as Second City, iO (formerly improvOlympic), and The Annoyance.
I like to thanks Tantor Media for providing me with a copy of this audiobook in exchange for an honest review.
Reviewed by: