Before the Fall Audiobook

By:
Noah Hawley
Narrated by: 

Robert Petkoff
Published by: Hachette Audio 05/31/16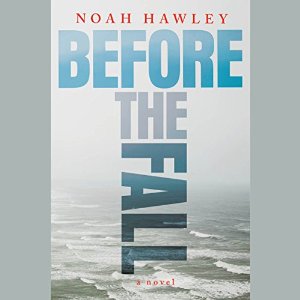 12 hrs and 59 mins

Before the Fall Audiobook Sample
Before the Fall Audiobook

4.5 Hearts
When I was looking at a list of new release audiobooks coming out, this one caught my eye. First thing I noticed was the narrator, Robert Petkoff, who is one of my favorite narrators. So, I read the synopsis, and thought that the story sounded interesting and decided to give it a go. I'm really glad I did. Not only did I get to listen to yet another book narrated by Petkoff, I also found a great story that I probably would've never picked up on my own.
This is the story about how a private plane crashes down and only leaves two survivors, a starving artist type painter and a four-year-old boy, son of the man who chartered the plane. Everyone else dies. That includes the entire flight crew, a wealthy man who owns a Fox News type TV station, his wife and their daughter. This is the family of the lone surviving son. They also had a couple they were friends with. The main was a financial broker who had worked on Wall Street and was known to launder money through some less than legal countries and was under some investigations. They also had a bodyguard on board.
This story goes back and forth between past and present as we learn more about what is currently happening as everyone loads on the plane, the plane goes down and Scott, that painter, boy struggle to survive the swim to shore. There is the stay in the hospital and the media aftermath. It was interesting see how the painter's perspective in changed by the media. He starts off as a hero who saved this young boy, only then to be scrutinized more and more. People start to question why he was on the plane in the first place. Did he have something to gain when the plane went down? They question his choices after leaving the hospital.
There are also many flashbacks into the past as we learn about each and every person on the plane. We learn that pretty much each person on that plane had a skeleton in their closet. We learn about the kidnapping of the big sister to the lone surviving boy. You would think with all the jumping back in forth from past to present and getting all the different stories about each person, that the story would be confusing, but it wasn't. It flowed perfectly. I never once questioned if I was in the present or the past.
There is also the story of the boy, J.J. He had to not only survive this horribly traumatic event. He had to go live with his aunt, his mother's sister. The uncle in this picture is the guy who I thought was really one of the worst characters in the book. I don't worst, as in poorly written, but worst as in I really hated him. He takes in this poor young boy, and all he can think about is the money that this boy stands to inherit. While the aunt is trying to deal with the death of her sister and the struggle to now be in charge of this little child new never expected she would need to raise, she has a husband who is only seeing dollar signs. He doesn't seem to understand that the money is not his, but all J.J.'s
It is not until the very end of this story that you realize exactly what happens with the plane and why it went down. I loved how the story kept me guessing up to the very end. I also loved watching how this book portrays the news media of today's society. The way they sensationalize everything. The way they make false conclusions. Anything to keep those ratings up. I can't help but to look at the current aspect of things in the news media and see that this part of the book is not a work of fiction, but something that is based on some real news networks that we see today.
Before the Fall Audiobook Narration
4.5 Hearts
Robert Petkoff continues to be one of my favorite narrators. While I learned to love him listening to Immortals After Dark series by Kresley Cole, where there is a ton of snark and accents that he has to manage, he handles a book like this one with just as much ease. This book doesn't have a large number of accents, snarkiness or some of the other things that normally pull me into a narrator. Robert Petkoff really pulls me into the story and I just want to stay there and continue to listen all day. If you haven't tried anything by him, I highly recommend you pick up a book by him. He does an amazing job with every book that I've listened to by him.
Noah Hawley is an Emmy, Golden Globe, PEN, Critics' Choice, and Peabody Award-winning author, screenwriter, and producer. He has published four novels and penned the script for the feature film Lies and Alibis. He created, executive produced, and served as showrunner for ABC's My Generation and The Unusuals and was a writer and producer on the hit series Bones. Hawley is currently executive producer, writer, and showrunner on FX's award-winning series, Fargo.

Narrator: Robert Petkoff
His work off-Broadway includes The New York Premiere of AVOW by Bill Davis, MRS. WARREN'S PROFESSION and MORE STATELY MANSIONS directed by Ivo Van Hove, the musical BLUE FLOWER at The Prospect Theatre Company and in 2009 he appeared in HAPPINESS at Lincoln Center, directed by Susan Stroman. Sir Peter Hall cast him in the starring role of Algernon in the national tour of THE IMPORTANCE OF BEING EARNEST with Lynn Redgrave, which was produced with the Theatre Royal Bath.
I like to thank Hachette Audio for providing me with a copy of this audiobook in exchange for an honest review.
Reviewed by:


Enter our Audiobook Month giveaway