Besieged Audiobook
By:
Kevin Hearne
Narrated by:
Luke Daniels
Published by Random House Audio 07/11/17
Besieged Audiobook Sample
Besieged Audiobook

4.5 Hearts
I love these kinds of anthologies. The little insights into these stories adds so much to a series. The author is able to include little tidbits that don't seem to fit into full-length novels.
The Eye of Horus
This is a fun story which tells about how Atticus becomes a druid. Atticus is to steal an Egyptian artifact. The best part about this story is that Atticus is telling the story to Granuaile and Oberon. Oberon is a great source of comic relief.
The Demon Barker of Wheat Street
This is a story with Granuaile, Atticus and Oberon at a carnival in Kansas (in Granuaile's home town). The quickly learn that the freakshow is more than they bargained for.
Goddess at the Crossroads
This was a fun story with Atticus and how he met William Shakespeare. It is also about how Shakespeare came up with those witches he wrote about in Macbeth.
Gold Dust Druid
Atticus tells the story of people summoning demons during the Gold Rush in San Francisco. The best part of this story is Oberon's constant interruptions. Oberon's commentary might be part of the reason this is the longest story in the collection. LOL
Cuddle Dungeon
This story is told from Perun's POV. He and Flidais go to Cuddle Dungeon in Edinburgh. It is a BDSM dungeon. Perun has no idea what this place is and Flidais doesn't give him much details. I think I left this story with the same thoughts as Perun.
The Bogeyman of Boora Bog
Owen tells the story of how he became Atticus' archdruid.
Blood Pudding
Granuaile tells the story of her encounter with vampires in Poland (of which they were supposed to have left, per the treaty with Leif). There are some vampires that feel that they don't have the follow the treaty because they don't acknowledge Leif's leadership. I really liked the bar patreon that Granuaile has at her bar. He didn't startle easily, that's for sure.
Haunted Devils
Owen is contacted by the elemental Colorado for the elemental in New Zealand. There is something weird going on in the area that is affecting the Tasmanian Devils. Owen takes Greta and his apprentices to heal the creatures and figure out what is causing the issue in the first place. It was great to see Greta and Atticus being civil with each other. I also liked seeing Owen with the children.
The End of Idylls
I think this was my favorite story (even though it is the shortest story in the collection). Atticus tells Oberon the story about Faolan (the wolverine that Atticus bonded with and kept for an extended time). I really enjoyed the story. But what I loved most was Oberon's comments to Atticus at the end. I love Oberon.
Besieged Audiobook Narration
4.5 Hearts
Luke Daniels did another amazing job with the narration of this book. There are a lot of characters in this series, many with difficult accents and he nails them all. There are even different accents for Atticus as he changes his identity in different stories. I love how he told the intro of each story in the voice of a different character.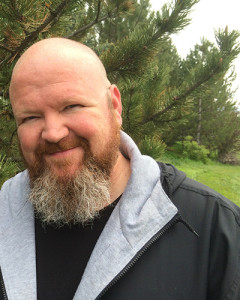 Kevin is the author of The Iron Druid Chronicles, an urban fantasy series published by Del Rey Books. The first six books of the series are now out as well as a novella that's book 4.5 and some other short works. The seventh book, SHATTERED, will be released June 17.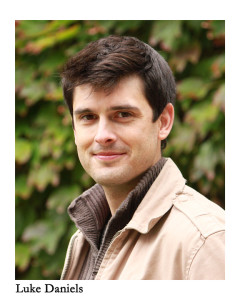 Luke Daniels was born into a family of actors. Both his father and mother have been performing and teaching for almost five decades. It is because of their influence that, from a very young age, Luke and his two brothers often found themselves in rehearsal halls at repertory theatres all over the country; watching innumerable productions of Much Ado, Julius Caesar, and Midsummer's.
Luke's first theatrical role came at the age of 5 as Fleance in a production of Macbeth. He immediately loved the creativity and camaraderie of the theatre. (It also didn't hurt that he was allowed to miss school for certain performances.)
Over the years Luke has performed at many repertory theatres across the country, including the Utah Shakespearean Festival, Connecticut Rep., and Hope Summer Rep. in Holland, Michigan. Luke has his Bachelor's from Western Michigan University and his MFA in performance from the University of Connecticut.
Luke has worked professionally as a director, teacher, audiobook narrator, voice-over, commercial, and industrial actor.
But he maintains that the greatest role he has ever played is that of a Father to his daughter.
Reviewed by: