Birthright Audiobook

By:
E.J. Stevens
Narrated by: 

Melanie A. Mason and Anthony Bowling
Published by: Sacred Oaks 5/12/2016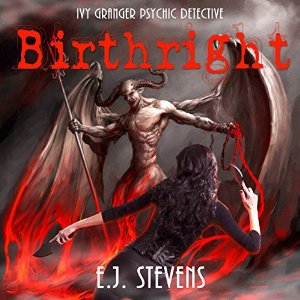 7 hrs and 4 mins
Birthright Audiobook Sample
Birthright Audiobook

4 Hearts
I was really excited to finally get to revisit the world of Ivy Granger. I was hoping that it would come out on audio, and I was glad that I waited and was able to get a chance to review it. I've been a huge fan of Ivy Granger since I met her in the first book, Shadow Sight. I just love her, all of her friends and the world built around her.
In this book, most of the story takes place outside of Harborsmouth and in the world of Faerie. Ceff, the king of the Kelpies and her lover, and Torn, lord of the Cat Sidhe, join her on this trip to Faerie to try to clear her name and try to control her powers. She has to travel to deal with the God of the Dead, but first they have to kill the Baphomet, the demon that is pictured on the cover. Oh, and let's not forget The Morrigan, the Goddess of War, who appears in a lot of stories, but Stevens has made her own character in this story. While there, they pick up a new travel companion in a hearth brownie, Skillywedden or "Skilly" for short.
Then they are on to the Wisp court where Ivy meets her Uncle Kade. He does a lot to teach her about her powers. She spends a lot of time in the Wisp court, a lot longer than she intended. Things there don't go as she intends. Her uncle also drops some pretty big bombs about Ivy's past. I don't want to tell any more, because spoilers. Let's just say that there are things that happened that I didn't see coming.
I really enjoyed this story, even as I missed many of the character that I normally love in this series. I'm a huge lover of secondary characters and I missed them in this story. I missed Jinx, the clutzy human best friend, Marvin the bridge troll, Hob the hearth brownie, Humphrey the gargoyle, Kay the witch, Sparky the soon to ever powerful demon lord, but now is the silly demon child. I even missed Forneus, the demon lawyer who is wooing Jinx. I did enjoy meeting Skilly and my time with him. I also enjoyed time with Ceff and Torn. This is a series that is full of some really fun characters. Even Donn, The God of the Dead, who first appears as a Santa Claus like person is really neat. Every character that Stevens has created is so much fun. Even the ones she creates that are even are great characters to read about. As a character driven reader, I can't ask for any more. I'm ready for Hound's Bite.
Birthright Narration
3 Hearts
Melanie A. Mason continues to do a great job with the narration. She has become the voice of Ivy Granger to me. The more I listen to her narrate, the more I enjoy her narration. I've even starting to get used to male narrator doing the male voices (something I've only had with this series). There is a change to the male narrator. I'm not sure why the change, but he did a great job. I liked his voices for Ceff, Torn and even Sparky and Skilly. The male narrator has the harder voices here than the female voices. In this book, the female narrator mostly just had to do Ivy and a few other minor characters.
E.J. Stevens is the author of the SPIRIT GUIDE young adult paranormal romance series, the HUNTERS' GUILD urban fantasy series, and the award-winning IVY GRANGER urban fantasy series. She is known for filling pages with quirky characters, bloodsucking vampires, psychotic faeries, and snarky, kick-butt heroines.
When E.J. isn't at her writing desk, she enjoys dancing along seaside cliffs, singing in graveyards, and sleeping in faerie circles. E.J. currently resides in a magical forest on the coast of Maine where she finds daily inspiration for her writing.
Narrator: Melanie A. Mason
There has never been a moment when Melanie Mason wasn't interested in telling a story, either one of hers or someone else's. She is an accomplished Actor, Director, Audiobook Narrator and Voice-Over Artist. Her voice work includes Web Spokesperson, anime, commercial and film. She holds a BFA in Theatre Performance and an MS in Information Science, with a focus on Storytelling. She has been a University faculty member for over a decade teaching Communication Studies and Broadcast Communication.
Narrator: Anthony Bowling
Anthony Bowling is known for his work on Summer Wars (2009), Fullmetal Alchemist the Movie: Conqueror of Shamballa (2005) and Fullmetal Alchemist: The Sacred Star of Milos (2011).
Reviewed by: