Bright Blaze of Magic Audiobook

By: 

Jennifer Estep
Narrated by:

 Brittany Pressley
Published by: Audible Studios 04/26/16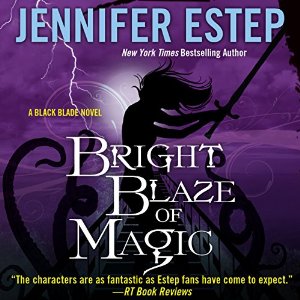 10 hrs and 38 mins
Bright Blaze of Magic Audiobook Sample
Bright Blaze of Magic Audiobook

4 Hearts
It is very rare that I think that the last book in a series/trilogy is the best book in the series. I think that the last books must be the hardest for authors to write (or at least that is how it seems to me). I've read so many great series that I love only to be disappointed by the last book in the series. It is hard to go out on a high note. That is something that Jennifer Estep pulled off with the Black Blade Trilogy. I thought this was a great ending to Layla's story.
We've known since book one that Victor Draconi has had aspirations to rule all of Cloudburst Falls with all the families swear allegiance to him alone. Well, with only one story left, we also knew he was finally going to make his move in this book. Well, Victor didn't disappoint. I will admit that this was a far more deadly (but not that gory) of a takeover that I would've expected for a YA series (but hey, I was reading Stephen King at twelve, so what am I to say about what should go in a YA novel. I also don't read a large number of YA, so I'm really not a good judge).
As we've watched Layla grow from the independent thief to the leader of the group to help come up with the plan that involves many people to win the day, though she takes most of the danger and responsibility onto her own shoulders. I also love that she spent plenty of time learning more about her mother from Seleste and Claudia. She also learned more about her mother's relationship with the monsters of Cloudburst Falls.
There is a ton of action in this book as Layla and the gang go from one thing to another to try to save their friends, family and everyone in Cloudburst Falls. I think Layla deserves quite a vacation after this all over. One of my favorite parts is we got a lot of time with Oscar, Layla's pixie, who has been a favorite character of mine since book one. He reminds me of a redneck version of Jenks from The Hollows series. Oscar's pet tortoise, Tiny, is adorable, too. I was glad that he had a larger part in this book, since he didn't have a large roll in book two.
I was very happy with how this all wrapped up. We got time with all the major and even some time with some of the minor players in this series. I think it wrapped up well. If you read other series by Jennifer Estep, you will see some Easter eggs for Karma Girl and Elemental Assassin series. I also can't talk about an Estep book without mentioning food. She does several great callouts to bacon in this book. Mmmm… Bacon. Never listen to an Estep book if you're hungry, it will only make it worse. LOL Great series, I recommend you try it, after you've eaten something.
Bright Blaze of Magic Audiobook Narration
4 Hearts
Brittany Pressley has narrated this entire trilogy and has done a wonderful job. She nails all the different voices of all the characters very well. She has to handle both male and female of adults and teenagers and she does it with ease. She does a great job with Oscar and his redneck pixie voice. I know that me and several of my friends prefered to get the audios over the ebooks because of the great narration.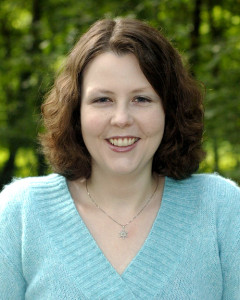 Jennifer Estep is a New York Times bestselling author, prowling the streets of her imagination in search of her next fantasy idea.
Jennifer has worked as a features writer and page designer for a daily newspaper and has more than 10 years of journalism experience. She's a member of Romance Writers of America, Science Fiction and Fantasy Writers of America, and other writing groups.
Jennifer's books have been featured in Cosmopolitan, Entertainment Weekly, Southern Living, and a variety of other publications.
Jennifer writes the Elemental Assassin urban fantasy series for Pocket Books. The books focus on Gin Blanco, an assassin codenamed the Spider who can control the elements of Ice and Stone. When she's not busy killing people and righting wrongs, Gin runs a barbecue restaurant called the Pork Pit in the fictional Southern metropolis of Ashland. The city is also home to giants, dwarves, vampires, and elementals – Air, Fire, Ice, and Stone.

Brittany Pressley is an audiobook narrator, songwriter, and vocal producer in New York City. She has narrated several audiobooks, including works by Alyson Noel and R. L. Stine. Her notable screen credits include being a newscaster on FOX Kid's News and playing Courtney in the Fox Television Network series Swans Crossing. Pressley also has a background in theater, having played Peaseblossom in Shakespeare in the Park's production of a Midsummer Night's Dream, and Maria in The Sound of Music for Carey Productions. She has also done both regional and national commercial spots and PSAs for TV and Radio, including MasterCard, Nickelodeon, and MTV.
Reviewed by: