Brighter Than the Sun Audiobook
by Darynda Jones
Narrated by Lorelei King
Published by Macmillan Audio 10/06/2015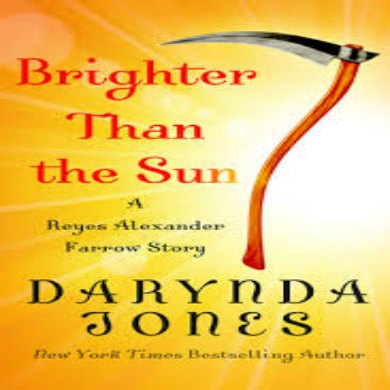 Brighter Than the Sun Audiobook Sample
Brighter Than the Sun is completely different from any Charley Davidson book you've ever read/listened to. For one, it is told from the point of view of one, Alexander Reyes Farrow. Two, it doesn't have all the snark and laugh out loud moments we have come to associate with the Charley Davidson series. This story is a prequel of sorts of Reyes as a child going through his time in prison.
It was interesting seeing his side of things as he grows up. How he sees Charley and everything he does to protect Kim. You also see how he becomes such close friends with Amadore. From the time he is little, he can tell if a person is going to hell or not from just one look and what is the first action that causes them to take that path. I can't imagine what that could do to a kid. Add on to that what Earl Walker was doing, and you can see how Reyes ends up the way he does. It is actually really amazing that he is as good as he is.
Listening to this story, told entirely from Reyes' POV, really adds to the Charley Davidson series and I feel is a must read/listen to any person in the series. If you are new to this series, this is not a place to start. It will not give you a good feel of series at all. The actions that take place go through First Grave on the Right, so you could read it anywhere after that book and not be lost.
Brighter Than the Sun Audiobook Narration
I'm really glad that they decided to stay with Lorelei King for this narration. I know some people might have decided to get a male narration, since it is told entirely from a male POV. King's voice of Reyes is so engrained in my head, it would've been really weird to have someone else do the narration. She did a great job as usual, but then I think she is one of my favorite narrators. I mean, she pulls off this book with ease, and it is a mostly male cast. I started out listening to this series, actually because she was the narrator. I will always go straight to audio. I can't recommend it enough.
NYTimes and USA Today Bestselling Author Darynda Jones has won numerous awards for her work, including a prestigious RITA, a Golden Heart, and a Daphne du Maurier. As a born storyteller, Darynda grew up spinning tales of dashing damsels and heroes in distress for any unfortunate soul who happened by, annoying man and beast alike, and she is ever so grateful for the opportunity to carry on that tradition. She currently has two series with St. Martin's Press: The Charley Davidson Series and the Darklight Trilogy. She lives in the Land of Enchantment, also known as New Mexico, with her husband of almost 30 years and two beautiful sons, the Mighty, Mighty Jones Boys. She can be found at www.daryndajones.com.
Once described as 'the best known American voice on radio 4,' Lorelei King has recorded more than 200 programs for the BBC, including the Marx Brothers tribute, 'Flywheel, Shyster and Flywheel,' super-hero 'audio movies' including 'Superman,' 'Batman' and 'Judge Dredd and classic American drama such as 'East of Eden,' 'Ethan Frome' and 'A Thousand Acres.' She appears regularly as a panellist on shows such as 'Where in the World' and 'Wordly Wise' and has hosted her own talk show, 'All About Eve.'
Lorelei is a multi- award-winning narrator of audiobooks, recording the works of best-selling authors Janet Evanovich, Sue Grafton and Patricia Cornwell among others.
Her work in animation is extensive, and in America she provides the voices for 'Wendy' and 'Packer' (among others) in Bob the Builder.
Born in Pennsylvania and raised in Los Angeles, Lorelei now makes her home in London, where she lives with her husband, actor Vincent Marzello.
I'd like to thank MACMILLAN AUDIO for the advanced copy of BRIGHTER THAN THE SUN in exchange for an honest review.