Deadly Silence Audiobook
By:
Rebecca Zanetti
Narrated by: 

Karen White
Published by: Hachette Audio 10/04/2016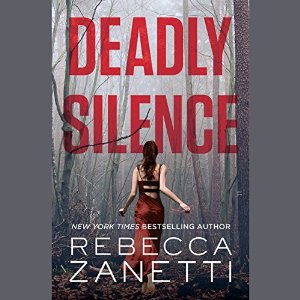 12 hrs and 36 mins

Deadly Silence Audiobook Sample
Deadly Silence Audiobook

4.5 Hearts
I started listening to both Rebecca Zanetti and Karen White with the Sin Brothers series. I quickly fell in love with the Dean brothers, also known as the Grey Brothers because they all have grey eyes. It was a series about four brothers who were raised in a military style school. They had enhanced abilities and were taught to kill at a young age. The four books follow these boys as grown adults as they continue to fight the group that raised them and find the women of their dreams along the way. It was a great story. Imagine my excitement when I learn that there is going to be a spinoff series.
While the Sin Brothers followed the boys raised in a military school, Blood Brothers follows three boys who were raised in a foster home. They are not related and each came to the boys home in a different way. They quickly form a bond. They decide to become blood brothers, as their love is just as much as those brothers who are biologically related. They are now adults and running an investigation agency. They mostly find lost people. Since they are on the search for the sheriff that treated them so poorly as children, they thought it sounds like a business that will allow them to search without raising red flags.
Zara Remington is a paralegal for a legal firm in Cisco, Wyoming. She's on a tough case. A good friend of hers is getting a divorce and it is an ugly one. Add to the fact that the man she is divorcing is the mayor of the town and things get tricky. Zara breaks her legal ethics to help her friend and things go from bad to worse.
Ryker Jones has been seeing Zara for a while at the start of this book. It isn't really dating, more like just the occasional sex thing, when he is in town. They both like it that way. But as things around Zara get more dicey, Ryker and The Lost Bastards Investigative Agency step into help her out and to keep her safe. Ryker, along with his blood brothers Heath and Denver, have great abilities to help keep Zara safe.
There is also Greg, another kid that was raised at the compound. He's looking for his brothers and wants The Lost Bastards Investigative Agency to help him find them. He wants them to find the good doctor from the Sin Brother books. Oh, and the Dean brothers make an appearance. It was great to see them again.
This story takes place chronologically after the Sin Brothers books. You could start here if you want. This is a new story, so everything is explained to you. Here's the thing though, there are some spoilers if you start here, so you have to know that if you go back to read the Sin Brothers, you will have extra information. Also, you will figure things out quicker if you have the information from the original series. I don't think that would lower the enjoyment of this series at all.
If you like romantic suspense, this is a very fun series, along with Sin Brothers. There are some paranormal aspects in that the men in this book are genetically enhanced and have abilities that are not available to the rest of us. Enhanced hearing, increased intelligence and other extra senses. I can't wait for the next book. I just love the world that Zanetti has built here.
Deadly Silence Audiobook Narration
4.5 Hearts
I'm so glad that they got Karen White to do this series. After listening to her narrate the Sin Brothers, it was great to have her back to take us on this journey with Blood Brothers. I like her ability to voice alpha male characters and women characters. The real unique voice in this series is the voice of the "good doctor". She sounds exactly how I would expect a person like this woman would sound. If you haven't tried Karen White, I highly recommend her.
Growing up amid the glorious backdrops and winter wonderlands of the Pacific Northwest has given Rebecca fantastic scenery and adventures to weave into her stories. She resides there with her husband, children and extended family who inspire her every day. Rebecca has completed several manuscripts, winning award throughout the writing industry for her work. She currently writes the Dark Protector series for Kensington Publishing, the Maverick Montana series for Entangled Publishing, and the Sin Brothers series for Grand Central Publishing.
Karen White is a classically trained actress who has been recording audio books since 1999 and has well over 150 books to her credit and is a proud member of SAG-AFTRA. Honored to be included in Audiofile's Best Voices 2010 and 2011, she's also an Audie Finalist and Best Audiobook of the Year winner for 2009, 2010 and 2011 (The Hemingses of Monticello by Annette Gordon Reed, Too Good to be True by Erin Arvedlund, and Everything That Rises Must Converge by Flannery O'Connor) and she has earned multiple Audiofile Earphones Awards.
I like to thank Hachette Audio for providing me with a copy of this audiobook in exchange for an honest review.
Reviewed by: