Delicate Freakn' Flower Audiobook

By:
Eve Langlais
Narrated by:

Tillie Hooper
Published by: Audible Studios 07/17/2017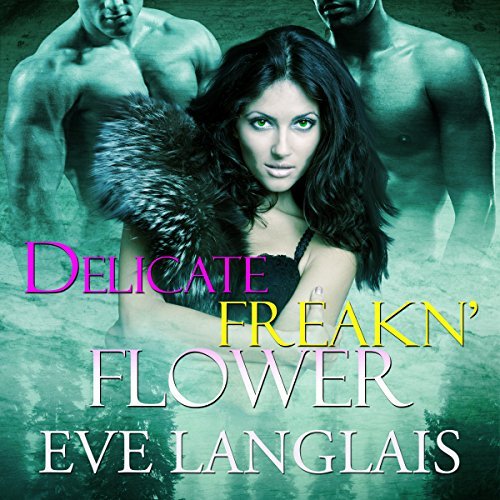 6 hrs and 8 mins

Delicate Freakn' Flower Audiobook Sample
Delicate Freakn' Flower Audiobook

4 Hearts
I read the first three books in this series years ago. I was enjoying it, but then they came out on audio and I love Tillie Hooper, so I knew that I wanted to listen to them. I got backed up on new releases and just never got these into my queue. Then I had an Audible $20 credit from a promotion, and since I had the Kindle versions, I was able to add these on really cheap, so now I'm revisiting the first few books. Then I will tackle all the ones I haven't read.
So, in this series, we have several different species of shifters. They do have fated mates where they are instantly attracted to their mates as soon as they meet them. They can also have more than one mate. In this book, Naomi, a wolf, has two mates, Javier, a jaguar, and Ethan, a Kodiak bear. So, yes, this is a menagage, but both men with the woman. They are best friends and enjoy sharing, but nothing between the two of them.
Naomi sees herself as a delicate freakn flower. She doesn't like violence and all the rough housing that her brothers do all the time. She wants to be a normal human, instead of a shifter. She really wants a human for a lover, again, she thinks they are less violence. Imagine her surprise when she has, not one, but two, shifter mates, who are professional lacrosse players, at that.
What Naomi doesn't realize is that: One, they will do anything to keep her happy. Two, she has quite the temper and isn't nearly as non-violent as she would like to think. That temper really comes out when someone threatens her by destroying her car, which is her baby. Her temper flares even more when some guys beat up her brother as a message to her.
This story does have the humor that I always expect from Eve Langlais. I don't think this is her funniest series, but it does have several of those chuckle-worthy lines. This series also ramps up the sex compared to series like Welcome to Hell or the Kodiak Point/Bitten Point/Dragon Point worlds. I would say, this is more along the lines of Princess of Hell series, which also has menagages too. A lot of the really funny quotes are sex related too (there was one quote I really wanted to include, but I thought it was a little more R rated than I wanted to include in a review.).
🙂
"I am a delicate, misunderstood flower, goddammit," she yelled. "Why does no one see that?"
Towering taller than she'd imagined a body could stretch with thick fur, a heavily muscled frame, and great big teeth, Ethan was absolutely magnificent. And kind of freaky in a he-could-totally-kill-me-with-a-swipe-of-his-paw kind of way. She took a step back, then, sat hard on her ass when the great, big, scary bear waved a paw at her and grinned by pulling his lips back to show some teeth.
Her anger, having receded during her hunt of Javier, became completely replaced with mirth as the Kodiak bear sat down and cocked his head, looking like a cuddly teddy.
She shifted back and shook her head. "How's a girl supposed to stay pissed when you're acting like the world's cutest carnival prize?" she snapped, her rebuke tempered with a smile. Ethan lifted hairy paws and shrugged. Naomi couldn't help giggling. A furry head butted her from behind and she peered sideways to see Javier's slick feline shape.
She let her fingers rub the fur between his ears, the hair softer than expected. Mischief made her scrub him hard behind the ears while crooning, "Who's a pretty kitty? You like that don't you." A loud purring met her ministrations and she giggled. "Look who's a big suck. Oops, I mean ferocious man eating panther."
Delicate Freakn' Flower Audiobook Narration
4.5 Hearts
Tillie Hooper is great with this series, which didn't surprise me at all. I knew she would be great with all the sex scenes and with the humor of this series. I'm a little disappointed in myself for taking so long to get to this series. I mean, Eve Langlais is a favorite author and Tillie Hooper is a favorite narrator. Why did I wait years to start with two favorites? I have no idea. Just know that Tillie Hooper is great with male and female voices (and there are a lot of male voices in this book between the two heroes and the heroines brothers and father). I highly recommend trying Tillie if you haven't yet.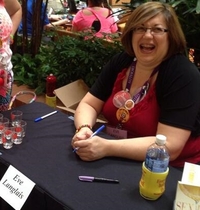 Hello, my name is Eve Langlais and I am an International Bestselling author who loves to write hot romance, usually with werewolves, cyborgs or aliens .
I should warn you, I have a twisted imagination and a sarcastic sense of humor something I like to let loose in my writing. While well known for my shifter stories, I am also extremely partial to aliens, the kind who like to abduct humans and then drive them insane…with pleasure. Or do you like something a little darker, more serious? Then check out my cyborgs whose battle with humanity have captivated readers worldwide.
Reviewed by: