Demon Walking Audiobook

By:
Eve Langlais
Narrated by:

Chandra Skyye
Published by: Tantor Media 1/22/2019

7 hrs and 6 mins
Demon Walking Audiobook Sample
Demon Walking Audiobook

4 Hearts
This is the sixth book in the Dragon Point series. This book follows a demon named Lucifer (not the same Lucifer in the Princess of Hell, Welcome to Hell and Hell's Son). Luc, as he's known, is a demon from another plan. He's been a prisoner for most of his life, but he's free now.
Elspeth is a demon of the Silver Clan, though she is of a yellow color herself (which isn't the same as the gold of royalty). She's also a bit crazy if she isn't on her meds. She also shouldn't drink or do any drugs because she will lose control.
So Babette, also of the Silver Clan, signs up Elspeth and herself for a mission for the dragon king. Women are going missing in Ireland. Babette are to go and talk to the Emerald Clan to try to find out what is going. That is where Elspeth and Luc meet.
This is another fun book in this series. I really have enjoyed my time with the dragons. As per usual with Eve Langlais, there are laughs in this story. Her stories are usually full of them. I highly recommend Eve Langlais if you're looking for a really fun and funny paranormal romance.
Demon Walking Narration
3.5 Hearts
Chandra Skyye has been narrating this series and several Eve Langlais series for while now. While she's not my favorite narrator, she does a good job. I've listened to several books with her narrating and she's grown on me.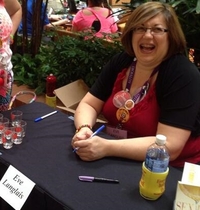 Hello, my name is Eve Langlais and I am an International Bestselling author who loves to write hot romance, usually with werewolves, cyborgs or aliens.
I should warn you, I have a twisted imagination and a sarcastic sense of humor something I like to let loose in my writing. While well known for my shifter stories, I am also extremely partial to aliens, the kind who like to abduct humans and then drive them insane…with pleasure. Or do you like something a little darker, more serious? Then check out my cyborgs whose battle with humanity have captivated readers worldwide.
Narrator Chandra Skyye
Chandra Skyye loves bringing characters and stories to life through voice acting and singing the blues. A lover of life, she spends her spare time being creative, appreciating nature, and sharing fun times with nice people and good dogs.
I like to thanks Tantor Media for providing me with a copy of this audiobook in exchange for an honest review.
Reviewed by: