Diamond Fire Audiobook

By:
Ilona Andrews
Narrated by:

Reneé Raudman, Emily Rankin
Published by: HarperAudio 11/06/2018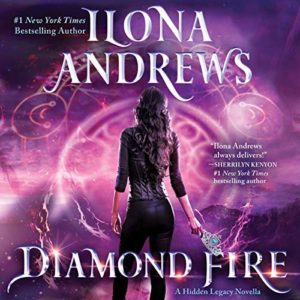 3 hrs and 56 mins

Diamond Fire Audiobook Sample
Diamond Fire Audiobook

4 Hearts
This novella set in the Hidden Legacy world is a bridge between Nevada as the lead character to move to Catalina, Nevada's younger sister. So Nevada and Mad Rogan are getting married. As if that wouldn't be chaotic enough, a crown that Nevada is to wear in the wedding, a family heirloom in Rogan's family, goes missing. Rogan's mother doesn't want to upset Nevada, so she asks Catalina to look into it.
So, Catalina has some massive power. Most people don't know what it is, which is the way she wants it. She has the powers of a siren, so to speak. She can make people fall in love with her and do whatever she asks. She's never really tried to develop her powers, but mostly works on keeping them contained and just avoiding people in general. She has to use her powers to figure out what happened with this crown.
I really enjoyed this short novella. We already see Catalina growing up, as she takes more of a role in the family business, investigations. She has learned that she must learn how to do more than just keep her powers under control. I think I'm really going to enjoy my time with Catalina, even as I will miss time with Nevada as the leading lady.
Overall, this was a fun story and a nice bridge between the two main women in the series.
Diamond Fire Audiobook Narration
4.5 Hearts
So, this book starts off with Renee Raudman narrating as Nevada. Then quickly the reins are turned over to Emily Rankin as she narrates Catalina. I'm not sure the reason for a change in narrator. Renee Raudman has been narrating Ilona Andrews books since the beginning (with the exceptions of male narrated stories). I think it was a shock to most fans to have someone else narrate this story.
All that being said, I thought that Emily Rankin did a great job with the narration. I liked everything about her narration. She does a great job with the wide cast of characters (there were quite a few characters in this book, especially considering the length), and she did a great job with all of them. I thought the male and female voices were done well. Her pace and tone worked great for the series as well.
While, I'll miss Renee Raudman's narration of this series going forward. I think Emily Rankin will be a great substitute. I have no doubt that she will win the hearts of the Ilona Andrews fans if given a chance. I know that she has already won mine.
Ilona Andrews is the pseudonym for a husband-and-wife writing team. Ilona is a native-born Russian and Gordon is a former communications sergeant in the U.S. Army. Contrary to popular belief, Gordon was never an intelligence officer with a license to kill, and Ilona was never the mysterious Russian spy who seduced him. They met in college, in English Composition 101, where Ilona got a better grade. (Gordon is still sore about that.)
Gordon and Ilona currently reside in Texas with their two children, and many dogs and cats. They have co-authored two series, the bestselling urban fantasy of Kate Daniels and romantic urban fantasy of The Edge.
Renée Raudman is a multi-award-winning audiobook narrator. A multiple Audie Award nominee, she has earned a number of AudioFile Earphones Awards, including for The Last Secret by Mary McGarry Morris and Wesley the Owl by Stacey O'Brien, as well as a Publishers Weekly Listen-Up Award for Joe Schreiber's Chasing the Dead. She has also performed on film, TV, radio, and stage, including the recurring roles of Jordon on ABC's One Life To Live, Phyllis on NBC's Passions, and guest-starring roles on prime-time TV. She has been heard in cartoons (The Simpsons, Billy & Mandy), videogames, and on the E! channel. Her narration of Homer's Odyssey by Gwen Cooper was selected by Library Journal as one of the best audiobooks of 2009, and her reading of Marthe Jocelyn's Would You was selected by the ALA as one of the best young adult audiobooks of 2009.
Narrator: Emily Rankin
Emily Rankin (previously credited as Emily Janice Card) has narrated numerous audiobooks, coauthors the manga series Laddertop, and created the popular web short Jane Austen's Fight Club.
I like to thank HarperAudio for providing me with a copy of this audiobook in exchange for an honest review.
Reviewed by: