Hot


4 hrs and 25 mins

Doe and the Wolf Audiobook Sample
Doe and the Wolf Audiobook

4 Hearts
This is the last installment of the Furry United Coalition, or at least all that is published at this time. This story is a little bit different than the previous stories in this series.
Everett is a wolf, but he doesn't always play well with others. He also feels like it is okay to bend the rules if it is for the right reasons. He does this one too many times for the higher ups at F.U.C.  He gets fired. So, we fast forward several years and now Everett is a bounty hunter. He still gets all the excitement of the hunt and still helps to get criminals off the street, but on his own terms.
Dawn is one of the victims that was rescued from the Mastermind. There were experiments done on her and her doe isn't the same as it used to be. She is hiding out in a park with a good forest. She isn't the only one hiding out there. The problem is that one of the other victims isn't doing a very good job of keeping a low profile. Joey is now a Godzilla-like gecko who is always hungry and also has quite the obsession with Dawn.
I think this one is my favorite of the F.U.C. stories. It has some of the best giggle moments. It all starts with Everett working as a "German shepherd" with his partner, Tom who is a sloth. Dawn's reactions are great. She hides behind trees and looks around them like you would see with a deer. Also, comments that she can't drive because of the whole headlight thing. Tom's laziness, as a sloth. Oh, and Chase and Miranda make an appearance, which is always a plus.
I found this to be a fun series. If you're looking for a funny, sexy shifter story, this is a great series. It is sure to make you laugh out loud more than once. I love all the different shifter species that you don't normally see in most shifter worlds. There is some suspense, but not the main focus of the story and easy to figure out, but that's okay with me. I'm in it for the fun-loving story.
Doe and the Wolf Audiobook Narration
4 Hearts
Abby Craden has narrated this entire series and has done a great job. I highly recommend her as a narrator. She did a great job with the different voices of these characters and really matched their voices to their personalities.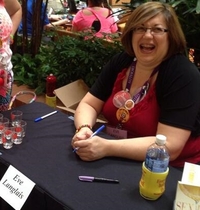 Hello, my name is Eve Langlais and I am an International Bestselling author who loves to write hot romance, usually with werewolves, cyborgs or aliens .
I should warn you, I have a twisted imagination and a sarcastic sense of humor something I like to let loose in my writing. While well known for my shifter stories, I am also extremely partial to aliens, the kind who like to abduct humans and then drive them insane…with pleasure. Or do you like something a little darker, more serious? Then check out my cyborgs whose battle with humanity have captivated readers worldwide.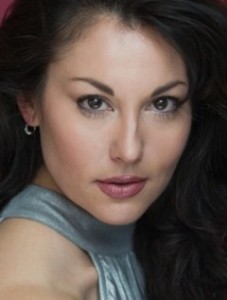 Narrator Abby Craden
Abby Craden works in all aspects of voice-over and can be heard in numerous commercials, animation, video games, and audiobooks. AudioFile magazine has awarded her an Earphones Award as well as named her One of 2012's Best Voices. Abby is an award-winning stage actress and a resident artist with the prestigious theaters A Noise Within and the Will Geer Theatricum Botanicum in Los Angeles. She also works in film and can be seen in the Emmy Award–winning documentary Bloody Thursday. Abby hails from the East Coast and currently lives in Los Angeles.
I like to thank Audible Studios for providing me with a copy of this Audiobook in exchange for an honest review.
Reviewed by: