Dragos Goes to Washington Audiobook

By: 

Thea Harrison
Narrated by:

 Sophie Eastlake
Published by: Teddy Harrison LLC 11/16/15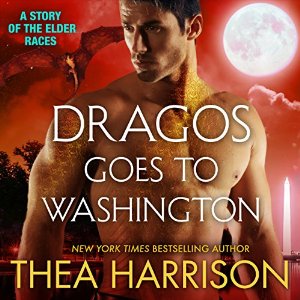 4 hrs and 22 mins
Dragos Goes to Washington Audiobook Sample
Dragos Goes to Washington Audiobook

4 Hearts
I've really enjoyed these novellas of the Cuelebre family. Dragos and Pia have always been my favorite couple in this series, so having these stories where we can go back and spend more time with them has been fun. This story actually takes place before the most recent Elder Races story. There was information from that book that you actually learn about in this story. I read the books out of order, but I don't think that affected anything about either story.
In Dragos Goes to Washington, Dragos and Pia go to DC to meet with the other leaders of the Elder domains along with the leaders of the human government. The Elders want to work with the humans to try to solve some of the unrest between the two groups from some violence that took place earlier in the series that ended the lives of many humans.
Dragos finds himself in a place where he must be politically correct and hospitable, which is not something that the dragon wants to do. The dragon is well aware of the fact that he could fly over all of these humans that are protesting and burn them all to pieces. However, he must protect all of the Wyr. They have become used to their lives of luxury from living with technology that humans provide. That will be something that would be hard to take everyone away from, if they could even do it logistically.
One of the nights, Dragos and Pia host a dinner at their house in DC that is on Embassy Row. They have the President, Vice President, Speaker of the House, Senate Majority and Minority leaders and all of their significant others. Plus all the Elder races domain leaders with their other halves, as well. While this is going on, someone is murdered in Dragos' home and they tried to make it look like a Wyr did it. Not to mention that Pia isn't feeling up to normal. Add all of these things together and you have a very grumpy Dragos.
Once again, fun look inside Cuelebre family. Not necessarily required reading for the series, but a fun one that most fans of the series I don't think would want to miss. There is some of Liam too, at the beginning, but not very much. The scene is also set for the next story in the novella series, Pia Takes Hollywood. I'll be listening to it soon.
Dragos Goes to Washington Audiobook Narration
4 Hearts
Once again, Sophie Eastlake nails the narration. Her male and female voices are always spot on. I love her pace and tone. I did speed up the narration a little more than normal this time. I don't know why it felt a little slower, but with the increased speed, it felt better for me on this one. I still loved it. If you haven't tried Sophie Eastlake, I highly recommend her.
New York Times and USA TODAY bestselling author Thea Harrison resides in Colorado.  She wrote her first book, a romance, when she was nineteen, and had sixteen romances published under the name Amanda Carpenter.  She took a break from writing to collect a couple of graduate degrees and a grown child.
Thea writes in a variety of genres, including the award-winning paranormal Elder Races series and the Game of Shadows novels, and is currently at work on various new projects in sci-fi fantasy, paranormal and contemporary romance.
She adores animals and currently resides with two small dogs that have very large personalities.
An avid reader her whole life, Sophie Eastlake happily extends her love of books to her passion for narrating. She lives in New York, where she survives the subway grind with a book in her hand and drops in on every literary reading she can find, while on a never-ending quest for the perfect cup of coffee.
Reviewed by: