Eleventh Grave in Moonlight Audiobook
by:
Darynda Jones
Narrated by:
Lorelei King
Published by Macmillan Audio 01/24/2017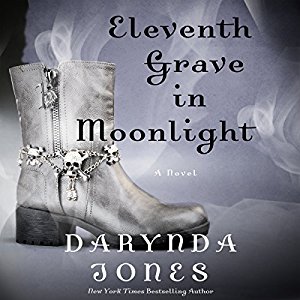 9 hrs and 18 mins
Eleventh Grave in Moonlight Audiobook Sample
Eleventh Grave in Moonlight Audiobook
4.5 stars
This series is a favorite of mine. I've loved it since I started with First Grave on the Right back in 2012. I started this series because I thought the story sounded interesting and I really love Lorelei King. Now, eleven books in, and I'm still in love.
As per a usual Charley Davidson story, this has two cases in it. One, Charley is investigating the Fosters, the two people who took Reyes from his "birth" parents. She's even hired by another of the Fosters' kids to find out if he was taken as well.
There are also some secrets between UB and Cookie that are causing problems. On more than one occasion, Cookie calls Charley saying that UB was having an affair because he's acting weird. There's also something going on with Amber. Charley and the gang are trying to keep UB alive because there is someone who wants to kill him. There's just a lot of secrets all the way around.
As per most of the recent Charley books, this one ends with quite the cliffhanger. There are parts of the story that wrap up really well. There are many questions answered. There are also some new ones that pop up (one that was left hanging and have me scratching my head). We learn a lot about Charley and Reyes. I don't know that I can say much more without spoilers.
Charley, Reyes, Cookie, UB and Amber have worked their way into my heart. They are a really fun cast of characters. We also get some time with Swope, Angel and Osh. Amber has a lot more page time in this book than previous books. The characters are my favorite part about this series. I think I could read anything with them in it.
The other thing that really draws me into this series is the humor. Yes, this series has some amazing plots, some really great suspense and some really interesting cases for Charley to solve. But it is the humor that I love the most. I know that Ms. Jones will make me laugh (though she has made me tear up on more than one occasion). The little one liners that come out of this series are always so much fun. The t-shirt, bumper sticker and meme sayings at the beginning of the chapters are always chuckle worthy. The banter between the characters are also great. Let's not forget about some things that go through Charley's head.
"On a scale of one to Kanye, you don't even register"
A lot of people are only alive because I shed way too much hair to ever get away with murder ~ meme
Life isn't a fairytale. If you lose a shoe at midnight, you're drunk ~ meme
"How better to learn to control this than to give you dire consequences if you fail"
Male logic at it's finest, ladies and gentleman.
Eleventh Grave in Moonlight Narration
5 stars
Since I told you that I started this series specifically because Lorelei King is the narration, then you should know that this is an audio only series for me. King's ability to bring out the different aspects of each character and their personalities to a tee. She's able to make Reyes scary when he needs to be. Charley is, well, Charley. King is able to make me laugh and cry throughout all the different scenes in this series. I once tried to read a short story (Shimmer) and had the hardest time. Nope, audio only for me. If you haven't tried this series on audio, I can't recommend it enough.
NYTimes and USA Today Bestselling Author Darynda Jones has won numerous awards for her work, including a prestigious RITA, a Golden Heart, and a Daphne du Maurier. As a born storyteller, Darynda grew up spinning tales of dashing damsels and heroes in distress for any unfortunate soul who happened by, annoying man and beast alike, and she is ever so grateful for the opportunity to carry on that tradition. She currently has two series with St. Martin's Press: The Charley Davidson Series and the Darklight Trilogy. She lives in the Land of Enchantment, also known as New Mexico, with her husband of almost 30 years and two beautiful sons, the Mighty, Mighty Jones Boys. She can be found at www.daryndajones.com.
Once described as 'the best known American voice on radio 4,' Lorelei King has recorded more than 200 programs for the BBC, including the Marx Brothers tribute, 'Flywheel, Shyster and Flywheel,' super-hero 'audio movies' including 'Superman,' 'Batman' and 'Judge Dredd and classic American drama such as 'East of Eden,' 'Ethan Frome' and 'A Thousand Acres.' She appears regularly as a panellist on shows such as 'Where in the World' and 'Wordly Wise' and has hosted her own talk show, 'All About Eve.'
Lorelei is a multi- award-winning narrator of audiobooks, recording the works of best-selling authors Janet Evanovich, Sue Grafton and Patricia Cornwell among others.
Her work in animation is extensive, and in America she provides the voices for 'Wendy' and 'Packer' (among others) in Bob the Builder.
Born in Pennsylvania and raised in Los Angeles, Lorelei now makes her home in London, where she lives with her husband, actor Vincent Marzello.