Entrapment Audiobook

By: 

Aleatha Romig
Narrated by: 
Samantha Prescott, Brian Pallino
Published by: Audible Studios 10/25/16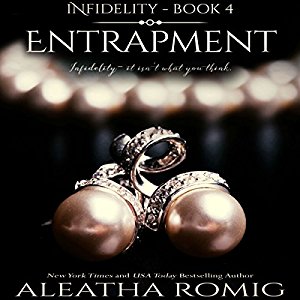 12 hrs and 1 mins
Entrapment Audiobook Sample
Entrapment Audiobook

4.5 Hearts
This story picks up right where Deception ended. As a matter of fact, the author repeats the last scene of the previous book to start this one. It was a great way to start off this book as, the ending was pretty important to the continuation of the series.
So, Alex has agreed to go with her stepfather because it seems that her mother is ill and that is the only way for her to learn what is going on. Alex is watched constantly and even locked in her childhood bedroom. Her stepfather, her ex-boyfriend (who was never really much of a boyfriend, but was a friend when they were both really young) and his mother try to manipulate Alex to do what they want. Alex is stronger than that. She does play along while she tries to find out what is going on with her mother.
Meanwhile, Nox is trying desperately to get Alex back. He also learns more about his father that he never knew. Nox's father, Oren, comes clean to his son that he had an affair with Alex's mother, Adelaide, several years ago and that she was the second love of his life (Nox's mother being the first, he started seeing Alex's mother after Nox's mother split).
This is a hard book to review. I don't want to go into too much detail, so as not to spoil the previous books. Just know that a lot happens and the characters learn a lot. This story is a little slow at times, but still an amazing story as the suspense builds. Alex trying to get out of her childhood home, get her mother and best friend safe and go back to Nox and law school.
This story is told mostly from Alex's and Nox's POV, but there are some parts that are told by Adelaide and Oren. Most of the story is told during the present, but there are some flashbacks to the past, told from the Adelaide and Oren's POV throughout the series.
Just know that I loved this book. This series ended on a HUGE cliffhanger. It isn't often that I finish one book only to pick up the next (I tend to like to mix my books up more than that), but that is exactly what I did here. I had to know what was going to happen. I finished this book on the drive home from work and then downloaded the next book as soon as I got home. That is how much I loved this series. (I even finished listening to the last book before writing this review, which made this really hard because I wanted to just rave about the whole series and the final ending).
Entrapment Audiobook Narration
4 Hearts
Samantha Prescott and Brian Pallino continue to do an amazing job narrating this series. They voice both the male and female voices of all the characters depending on who's POV is being told at the time. They were good about even changing up the narrative parts of the story depending on whose POV they were voicing. I could always tell if Brian was telling a part from Nox or Oren. Samantha's was easier to tell because Adelaide had a heavy Southern accent, that Alex had lost while in California.
Aleatha Romig is a New York Times and USA Today bestselling author who lives in Indiana. She grew up in Mishawaka, graduated from Indiana University, and is currently living south of Indianapolis. Aleatha has raised three children with her high school sweetheart and husband of nearly thirty years. Before she became a full-time author, she worked days as a dental hygienist and spent her nights writing. Now, when she's not imagining mind-blowing twists and turns, she likes to spend her time a with her family and friends. Her other pastimes include reading and creating heroes/anti-heroes who haunt your dreams!
Aleatha released her first novel, CONSEQUENCES, in August of 2011. CONSEQUENCES became a bestselling series with five novels and two companions released from 2011 through 2015. The compelling and epic story of Anthony and Claire Rawlings has graced more than half a million e-readers.
Aleatha released the first of her series TALES FROM THE DARK SIDE, INSIDIOUS, in the fall of 2014. These stand alone thrillers continue Aleatha's twisted style with an increase in heat.
In the fall of 2015, Aleatha moved head first into the world of dark romance with the release of BETRAYAL, the first of her five novel INFIDELITY series. She also began her traditional publishing career with Thomas and Mercer. Her books INTO THE LIGHT and AWAY FROM THE DARK will be published through this mystery/thriller publisher in 2016.
Aleatha is a "Published Author's Network" member of the Romance Writers of America and represented by Danielle Egan-Miller of Browne & Miller Literary Associates.
I like to thank Audible Studios for providing me with a copy of this audiobook in exchange for an honest review.
Reviewed by: