Etched in Bone Audiobook
By:
Anne Bishop
Narrated by:
Alexandra Harris
Published by: Penguin Audio 03/07/2017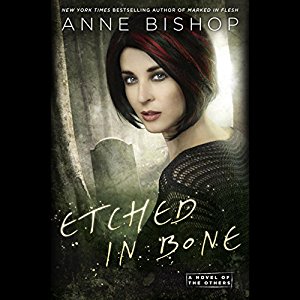 16 hrs and 21 mins
Etched in Bone Audiobook Sample
Etched in Bone Audiobook

4.5 Hearts
This is one of my favorite series. I love the really dark aspects of the others in this series. If you're not familiar with this series, the others are supernatural creatures that are less human than most of what you read in UF/PNR. These are animals that have mimicked humans, but really have no use for them. The think of humans a "monkeys". That is until Meg Corbyn stumbled into their courtyard in the first book. Everything else, as they say, is history.
So, in the previous book, Namid's teeth and claws put a stop to the Humans First and Last movement. The Lakeside Courtyard is trying to get things back into a sense of normalcy. More of the human and police packs have moved into the courtyard. Meg is working to tell prophecy with her cards instead of cutting.
The Elders are trying to decide which humans they should keep and which should be killed off to prevent another attack. When Monty's con-artist brother shows up, the Elders make Simon let him stay so that they could study him. Simon tries to talk them out of it, but they don't understand how a single human could cause more chaos than all the terra indigene, elementals and elders could handle.
Ending a series is a tough thing. I've read some really great books that end a series. I've also read some that left me disappointed and it taints the entire series. While this book was amazing, it didn't really feel like an ending to a series to me. I felt like there could me more to this series. I don't want to give the impression that I didn't enjoy this book, I did, a LOT. It just didn't feel like a series finale to me. It didn't have the that wrap up, that I'm used to. Maybe I'll feel better about the ending of this series after I read the first spinoff book and see where Ms. Bishop takes this world. You can bet that I will be all over her next book.
Etched in Bone Audiobook Narration
4 Hearts
I've been listening to this series since book one. I've always enjoyed Alexandra Harris's narration. I think she is the perfect voice for Meg. I also like her voices of all the other characters too. I think she does a great job with elementals and Elders. Growly, Simon. I don't know that it could've been done better. I've not listened to her read any other books besides this series, but I would definitely grab anything with her as the narrator.
Anne Bishop lives in upstate New York where she enjoys gardening, music, and writing dark, romantic stories. She is the author of fourteen novels, including the award-winning Black Jewels Trilogy. Her most recent novel,Twilight's Dawn, made the New York Times bestsellers list. She is currently working on a new series, which is an urban dark fantasy with a bit of a twist.
Crawford Award (2000)
Alexandra Harris is an actress, known for The Posthuman Project (2014), The Prophet's Son (2012) and In the Shadows (2012).
Reviewed by: