Fire Touched Audiobook
By: 
Patricia Briggs
Narrated by: 
Lorelei King
Published by: Brilliance Audio 03/08/2016

10 hrs and 7 mins


Fire Touched Audiobook Sample
Fire Touched Audiobook

4.5 Hearts
In this ninth installment of Mercy Thompson series, we have Mercy doing what she does best, kicking ass as only she knows how. The pack is called in to help deal with a troll on a bridge. This is a very large creature and the police can't seem to get it to leave the bridge. People are dying. Mercy has helped them in the past and was hoping that her and the werewolves would help again in this case.
The fight scene with the troll was extremely well written. I could completely see it play out in my mind as we have wolves fighting an extremely large troll. There are also wolves in human form, who don't want to give up their identity fighting with crowbars, which with their iron content help better than you would think. We also get to see Joel as the tibicena. He is a great help against the troll. Tad and Zee make an appearance on the bridge too.
While fighting, Adam is injured along with several others. You can see how the pack has changed. Instead of challenging a weak alpha, like Darryl doesn't even consider it. They just do what needs to be done. Mercy shows that even though she isn't as strong as the werewolves, she is a force to be reckoned with. Though her actions do cause some other issues for the pack.
Adam finally takes a stand both to his ex-wife (which he should've done in the previous book) and his pack (also I guess better late than never). He lays down the law and make the consequences very clear.
The introduction of Aidan is the main focus of the story. He is a man in a 10 year old body. He was trapped in Underhill for many years. While his body never aged, his mind did. Not only that, he is now Fire Touched. He can control fire or fire can control him. He does sometimes set fire to his bed while he sleeps. Which really bothers him, while seeking asylum with the wolves. Little does he know the amount of damage a wolf can do to a house. The pack just had to purchase a bunch of fire extinguishers. The issue is that the fae or more importantly Underhill want Aidan back. But the wolves aren't going to let him go without a fight.
I loved getting to spend time with Mercy and the pack again. I loved spending time with some of the characters that haven't been around for a while in the fae. There are also some of the vampires who make appearances. The law that Mercy laid down could have overreaching changes for the wolves, fae and vamps. It will be interesting to see where it all goes. I'm already itching for the next book.
Fire Touched Audiobook Narration
5 Hearts
Once again Lorelei King does a great job with the narration of this series. This series was the first thing I her King narrate. She will always be Mercy for me. She does such a great job with all the characters. Ben's british accent, Baba Yaga's accent, Zee's german accent. They are all great. She also does a great job with Jesse and Aidan's younger voices. I just can't recommend her narration enough.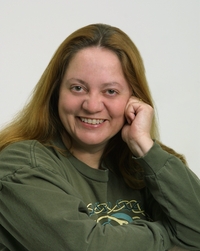 Patricia Briggs was born in Butte, Montana to a children's librarian who passed on to her kids a love of reading and books. Patricia grew up reading fairy tales and books about horses, and later developed an interest in folklore and history. When she decided to write a book of her own, a fantasy book seemed a natural choice. Patricia graduated from Montana State University with degrees in history and German and she worked for a while as a substitute teacher. Currently, she lives in Montana with her husband, children and six horses and writes full-time, much to the delight of her fans.
Once described as 'the best known American voice on radio 4,' Lorelei King has recorded more than 200 programs for the BBC, including the Marx Brothers tribute, 'Flywheel, Shyster and Flywheel,' super-hero 'audio movies' including 'Superman,' 'Batman' and 'Judge Dredd and classic American drama such as 'East of Eden,' 'Ethan Frome' and 'A Thousand Acres.' She appears regularly as a panellist on shows such as 'Where in the World' and 'Wordly Wise' and has hosted her own talk show, 'All About Eve.'
Lorelei is a multi- award-winning narrator of audiobooks, recording the works of best-selling authors Janet Evanovich, Sue Grafton and Patricia Cornwell among others.
Her work in animation is extensive, and in America she provides the voices for 'Wendy' and 'Packer' (among others) in Bob the Builder.
Born in Pennsylvania and raised in Los Angeles, Lorelei now makes her home in London, where she lives with her husband, actor Vincent Marzello.
Reviewed by: