Force of Temptation Audiobook

By:
Suzanne Wright
Narrated by:

Jill Redfield
Published by: Brilliance Audio 12/13/16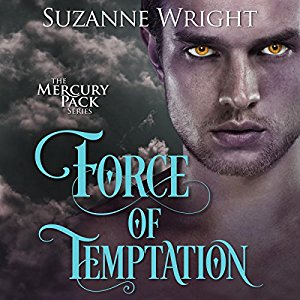 11 hrs and 37 mins

Force of Temptation Audiobook Sample
Force of Temptation Audiobook

3.5 Hearts
First, I will say that though this is book two of the Mercury Pack series, I think it is best when read as part of the Phoenix Pack series. They changed the series name based on the focus of the different group, but you don't know the other characters. You could probably read this as a standalone, if you're okay with not knowing the characters as well. There is a full story here.
This story follows Jesse Dalton, an enforcer for the Mercury Pack. Harley Vincent is now in danger from shifter extremist (Harley is a margay, a type of cat shifter). She has been living out in the human world and likes it that way. She has freedom to roam. He does convince her to come back to the pack to keep her safe.
The pack is having it's own issues. There is a guy who bought land next to theirs and he wants to put up a resort on that land. He keeps trying to buy the land from the shifters. The potential buyer isn't above using shady tactics to get Mercury Pack to sell.
Jesse lost his fated mate when he was still a child. He's had a thing for Harley for a while, though he did play the field some too. One of those girls is convinced that she will be a better mate for Jesse than a cat shifter. There is a ton of drama around this part of the story. Not to mention the angst about Harley not being the fated mate. It made me really not enjoy this romance.
Overall, I still enjoyed the story, but I wish there was more about pack issues than all the angst and drama surrounding Jesse. I liked both Jesse and Harley, but I didn't enjoy their romance. One thing that never bothered me with previous books, but really did with this one, the language. I've never had an issue with the language in this book (everyone gives new meaning to 'cursing like a sailor'), but it got a little old. I don't know if the other angst and drama got me a bit down, so it brought out the other flaw in my mind more, or what.
Force of Temptation Audiobook Narration
4 Hearts
I continue to love Jill Redfield's narration of this series. She has no problem with the constantly growing cast. She has to voice not just Mercury Pack, but also Phoenix Pack characters, as they both show up in the other's series (another reason, this should just be one series in my mind).
Narrator Jill Redfield
Narrator Jill Redfield broke into the Audiobook scene with big success with  Silvia Days' Crossfire Series. Since then, she has also narrated other successful series like, Phoenix Pack.  Her level of expertise leads me to believe this a pseudonymous …I'll keep searching! Until now I haven't come across with a similar voice in all my romance listens. It could be that she narrates other genres besides romance.
I like to thank Brilliance Audio for providing me with a copy of this audiobook in exchange for an honest review.
Reviewed by: