Frostbite Audiobook

By:
E.J. Stevens
Narrated by:

Melanie A. Mason



Published by: Sacred Oaks 6/18/2018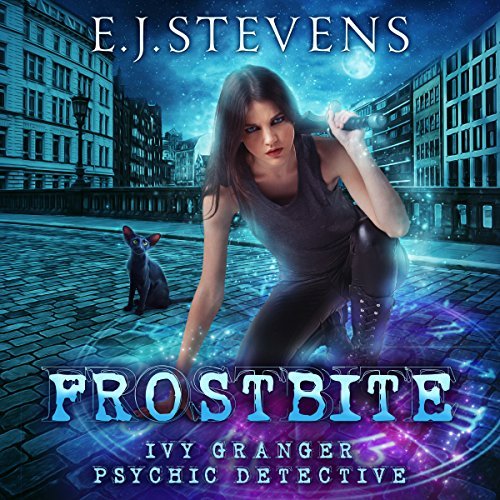 28 mins

Frostbite Audiobook Sample
Frostbite Audiobook

4 Hearts
So, this is a very short story (28 minute audiobook, 31 pages). It is set in the world of Ivy Granger, Psychic Detective. It takes place before the start of the series, so Jinx is the only character other we have, but she is a fun one.
So, Ivy and Jinx have their detective business. A woman comes in and tell them her house is haunted, but everyone knows there's no such thing as ghosts. But, Ivy goes to investigate.
I can't give more details, or I would spoil the story. Like I said, it is very short, but is a lot of fun. I think current fans of Ivy Granger will really love this story. I think it would also be a great introduction to new fans as well.
If you like Urban Fantasy with some interesting characters, humor and action, this is a series you need to try.
Frostbite Audiobook Narration
4 Hearts
Melanie A. Mason has been narrating this series for a while now. She normally has a partner who narrates the male parts of the story, but that was no needed here. She pulled me back into Ivy Granger with ease. I always look forward to hearing her tell me the story.
E.J. Stevens is the author of the SPIRIT GUIDE young adult paranormal romance series, the HUNTERS' GUILD urban fantasy series, and the award-winning IVY GRANGER urban fantasy series. She is known for filling pages with quirky characters, bloodsucking vampires, psychotic faeries, and snarky, kick-butt heroines.
When E.J. isn't at her writing desk, she enjoys dancing along seaside cliffs, singing in graveyards, and sleeping in faerie circles. E.J. currently resides in a magical forest on the coast of Maine where she finds daily inspiration for her writing.
Narrator: Melanie A. Mason
There has never been a moment when Melanie Mason wasn't interested in telling a story, either one of hers or someone else's. She is an accomplished Actor, Director, Audiobook Narrator and Voice-Over Artist. Her voice work includes Web Spokesperson, anime, commercial and film. She holds a BFA in Theatre Performance and an MS in Information Science, with a focus on Storytelling. She has been a University faculty member for over a decade teaching Communication Studies and Broadcast Communication.
Reviewed by: