Ghosts Gone Wild Audiobook
Published by: Tantor Audio 4/09/19

Beechwood Harbor Ghost Mystery #2
5 hrs and 58 mins
Ghosts Gone Wild Audiobook Sample
Ghosts Gone Wild Audiobook

4 Hearts
This is the second book in the Beechwood Harbor Ghost Mystery series. I enjoyed book one, but this one is even more fun. Scarlett is really coming into her own. So Scarlett is trying to run her new florist shop business and handling the ghosts of Beechwood Harbor.
She gets a call from a man who's ex-wife died not that long ago and she's haunting him years after his divorce. Scarlett finally agrees to help the man, though she really doesn't have the time to do it. The ex-wife was her alimony checks to be given to her young son from her second marriage.
Add to that, Scarlett has quite the bridezilla who hates everything that Scarlett does and changes her mind on a constant bases. She is going to be the first wedding at the newly renovated B&B from the first book. She has an exclusive contract with the B&B, so she has no choice but to work with Scarlett.
Add to all of this, Lucas has come in to visit. Lucas was a possible relationship interest from the first book. He travels a lot with the TV crew as head of security, so they don't get to spend a lot of time together. This is his first visit since they worked together at the B&B. Of course, things couldn't be easy for them to just spend time together.
As if this wasn't enough, ghosts are going missing. Scarlett makes Gwen really mad when Scarlett appears to be dealing with new ghosts more than the long-timers who are missing. So much is going on that even Hayward gets flustered, which is rare for the old ghost.
This was a fun addition to the series. I can't wait to see where the series goes next. I'm really loving my time with Scarlet and the gang.
Ghosts Gone Wild Audiobook Narration
5 Hearts
Amanda Ronconi continues to nail the narration of this series. Anyone who has listened to her narrate anything knows how great she is with fun and humorous stories. She really brings out the humor of any story. She's great with large cast, no matter how many men or women. Here, she even narrates a cat named Flapjack.
From a young age, Danielle Garrett was obsessed with fantastic places and the stories set in them. As a lifelong bookworm, she's gone on hundreds of adventures through the eyes of wizards, princesses, elves, and some rather wonderful everyday people as well.
Danielle now lives in Oregon and while she travels as often as possible, she wouldn't call anywhere else home. She shares her life with her husband and their house full of animals, and when not writing, spends her time being a house servant for three extremely spoiled cats.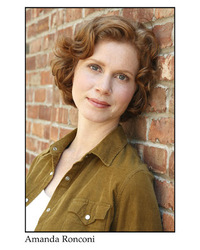 Narrator: Amanda Ronconi
I am an actress, narrator and writer who divides my time between New York City and Upstate New York.  I have a BFA from NYU where I studied at the Stella Adler Conservatory.  I have performed in theaters around New York City as well as regionally at The Alley, Capital Rep and many productions at the Shakespeare Theatre of New Jersey.
My Off-Broadway solo comedy, Shirley at the Tropicana, received critical acclaim and was subsequently featured in The New York Times.  Film and TV credits include Daydream Believer (Slamdance 2001's Best Dramatic Feature winner), The Understudy, Deadly Sins (ID Discovery), IFC's Get Hit and Chasing Paradise. National network and regional commercials include Chase Bank, Sony and Blue Cross/Blue Shield.  My voiceover work encompasses over 70 audiobooks available on Audible.com.
I like to thanks Tantor Media for providing me with a copy of this audiobook in exchange for an honest review.
Reviewed by: