Grave Ransom Audiobook

By:
Kalayna Price
Narrated by:

Emily Durante
Published by: Tantor Media 10/03/2017

10 hrs and 38 mins

Grave Ransom Audiobook Sample
Grave Ransom Audiobook

4 Hearts
I was very excited to get a new book in the Alex Craft series. I've really enjoyed this series from the beginning. It was a little hard to get into this one. It has been a while since I read the previous book, so I didn't really remember what happened in that story. But it didn't take that long and I was deep into this book and I had all the information that I needed to enjoy this story.
This one starts off with Alex out to a lunch with a friend when she feels the dead near back. It is strange when the "dead" that she is feeling is walking by her. She gets up to follow him. Come to find out, it is a dead body with a soul in it. She accidently pulls the soul out of the body, only to find out that the soul didn't belong with that body, but someone else entirely. Turns out that this isn't the only time it happens.
This was a fun story with a lot of great investigative work as Alex and Briar try to solve this case. I really enjoyed the investigative part of this story. The romance part of the story really annoyed me. The complications between Alex and Death are starting to make me not enjoy their relationship. Death is just making things really hard on Alex. I'm just over it.
I know I didn't go into the investigative part of the story very much, but I really feel like you need to experience it for yourself. I don't want to give anything away. I really love Alex. I love this world that Kalayna Price has created. The secondary characters in this series are great. I love them all. I'm not a huge fan of the romance, but that's okay. I do have a feeling that something will change with the next book (I'm not give more details than that). I'm excited for the next book. I hope I don't have to wait too long. 🙂
Grave Ransom Narration
4 Hearts
I continue to love Emily Durante's narration of this series. I think the voices she chose for each character fits them well. There isn't a voice that stands out. Not a lot of accents or odd voices, but she just does a great job with the narration. A solid performance with great pacing and tones.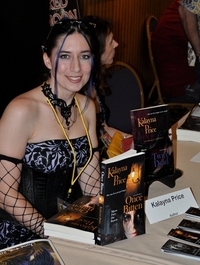 Kalayna Price
Urban fantasy series from Roc, and the Novels of Haven from Bell Bridge Books. Her works have been translated into several languages and are available (or have been contracted for release) in the US, UK, Australia, New Zealand, France, Poland, Russia, and Germany. Kalayna draws her ideas from the world around her, her studies into ancient mythologies, and her obsession with classic folklore. Her stories contain not only the mystical elements of fantasy, but also a dash of romance, a bit of gritty horror, some humor, and a large serving of mystery. Kalayna is a member of SFWA and RWA, and an avid hula-hoop dancer who has been known light her hoop on fire. To find out more, please visit her at www.kalayna.com
Narrator Emily Durante
Emily Durante has been acting since the age of seven, performing in a number of stage plays professionally, in the community, and at the college level. Other performance credits include commercial and industrial voice work, educational live theater, and singing telegrams. She has been narrating audiobooks for over ten years. Her titles include the Midnight Twins trilogy by Jacquelyn Mitchard, Casting Off by Nicole R. Dickson, Impossible and Locked Inside both by Nancy Werlin, and Smooth Talking Stranger by Lisa Kleypas. She has also directed audiobooks, including the Earphones Award-winning performance of Heaven's Keep narrated by Buck Schirner. Emily resides in the Philadelphia area with her husband and two children.
I like to thanks Tantor Media for providing me with a copy of this audiobook in exchange for an honest review.
Reviewed by: