Grave Visions Audiobook

By:
Kalayna Price
Narrated by:

Emily Durante
Published by: Tantor Media 02/02/2016

10 hrs and 38 mins

Grave Visions Audiobook Sample
Grave Visions Audiobook

4 Hearts
It has been a long while since I have visited the world of Alex Craft and her friends. I was quite surprised with how quickly I was able to pick the story back up. I had originally planned to relisten to the third book in the series before listening to this one, but I didn't have a copy. I thought I had bought a copy, but I must have gotten it from the library. Anyway, I did okay without the relisten to the previous book.
It has only been a few weeks for Alex since the end of the last book (seems like so much longer, since it was for me.) Alex is quickly drawn into a new case. Humans are taking a new drug that are bringing nightmares to life and killing them. Then when she goes to raise the shades, there isn't much left of them, which is really weird.
Alex is also called to the Winter court by the Winter Queen, which is never good. Falin is forced to bring her. She is put into a position to help the queen, but Alex uses her smarts to quickly solve another issue that she's having. She needs her independent status or join a court. If she joins a court, she could be forced to move when the courts shift (fae courts move separately from the mortal world). She quickly makes a deal with the Queen to get her independent status for at least a while if she can help the Queen, which is easier said than done.
There is some drama in the romance part of this book. There were issues with Alex's current lover, Death, in the previous book. Falin is trying really hard to court her. Oh, and she finds out that there is a new player that she didn't even know about. Personally, I'm still on team Falin. I think he is the best bet for her. However, as a member of the Winter Court, what will happen if the courts shift and he has to move and she doesn't.
I will say I was very glad to be back in Necros. It was everything I remember that I loved about this series. Alex is a great character who is caring and is always trying to help her friends. She also has great friends. Even some of the cops who she works with who are not her friends are great characters. This is a fun urban fantasy series with great mysteries and crime drama. You do need to start with the first book in the series and work your way through the series without being lost.
Grave Visions Narration
4 Hearts
This is the only series that I've listened to with Emily Durante. That is not because I don't like her, I just haven't come across her for anything else. I think she does a great job with her narration of this series. I was a little worried that with the long break between books that there might be a different narrator for this book. I was so glad to see she was still narrating this series. She is Alex Craft to me. She does a great job with the different voices, both male and female. I like her pace and tones. I think she does a great job showing the sense of urgency when the scene calls for it. She is a narrator that I would recommend.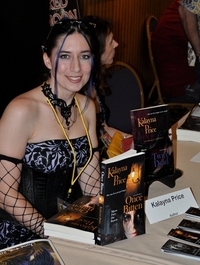 Kalayna Price
Urban fantasy series from Roc, and the Novels of Haven from Bell Bridge Books. Her works have been translated into several languages and are available (or have been contracted for release) in the US, UK, Australia, New Zealand, France, Poland, Russia, and Germany. Kalayna draws her ideas from the world around her, her studies into ancient mythologies, and her obsession with classic folklore. Her stories contain not only the mystical elements of fantasy, but also a dash of romance, a bit of gritty horror, some humor, and a large serving of mystery. Kalayna is a member of SFWA and RWA, and an avid hula-hoop dancer who has been known light her hoop on fire. To find out more, please visit her at www.kalayna.com
Narrator Emily Durante
Emily Durante has been acting since the age of seven, performing in a number of stage plays professionally, in the community, and at the college level. Other performance credits include commercial and industrial voice work, educational live theater, and singing telegrams. She has been narrating audiobooks for over ten years. Her titles include the Midnight Twins trilogy by Jacquelyn Mitchard, Casting Off by Nicole R. Dickson, Impossible and Locked Inside both by Nancy Werlin, and Smooth Talking Stranger by Lisa Kleypas. She has also directed audiobooks, including the Earphones Award-winning performance of Heaven's Keep narrated by Buck Schirner. Emily resides in the Philadelphia area with her husband and two children.
I like to thanks Tantor Media for providing me with a copy of this audiobook in exchange for an honest review.
Reviewed by: