The Unhoneymooners Audiobook
By:
Christina Lauren
Narrated by: Cynthia Farrell, Deacon Lee
Published by: Simon & Schuster Audio 5/14/19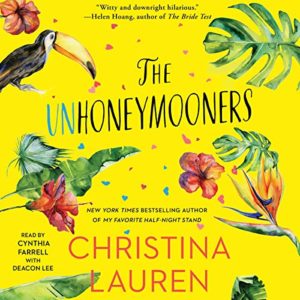 9 hrs and 7 mins

The Unhoneymooners Audiobook Sample
The Unhoneymooners Audiobook

4 Hearts
I love good enemies to lovers romance and the writing team of Christina Lauren delivered with The Unhoneymooners. Ethan and Olive have hated each other since they first met on a fun day out with their siblings, Amelia (Olive's twin sister) and Dean (Ethan's younger brother).
Olive feels like she has nothing but bad luck verse her sister, Amelia (Ami) who wins almost every contest she enters. Which we see when the story opens with Ami and Dean getting married. Ami entered contests and won almost everything for her wedding, including a 10-day honeymoon package to Hawaii. But after everyone getting sick at the wedding from food poisoning with the exception of Olive and Ethan, Ami begs Olive to take the honeymoon trip so it doesn't go to waste.
Watching Ethan and Olive on their non-honeymoon is fun. They have chemistry and fun banter. The banter is their thing since they are convinced that the other one hates them. After getting to know each other a little and making the most of the trip they become friends. Then a few truths come out that has both rethinking the last couple of years.
The Unhoneymooners is a funny, sexy trip to a HEA between Olive and Ethan and Christina Lauren fans will have a great escape with this new release.
The Unhoneymooners Audiobook Narration
3 Hearts
Cynthia Farrell is a new to me narrator. It took me a while to fall into her interpretation of Ethan. I thought she was trying to make him sound like a airhead surfer dude when he wasn't, but I figured it that was how she does a guy's voice. I'm glad I got into Farrell's voices for Olive and Ethan after a few chapters. I enjoyed listening to this enemies to lovers romance.
Deacon Lee only narrates the prologue which is from Ethan's POV. Lee has a pleasant voice and handles Ethan's POV well.
I like to thanks Simon & Schuster Audio for providing me with a copy of this audiobook in exchange for an honest review.
Reviewed by: