Hounded Audiobook
By:
Kevin Hearne
Narrated by:
Luke Daniels
Published by Brilliance Audio 04/19/11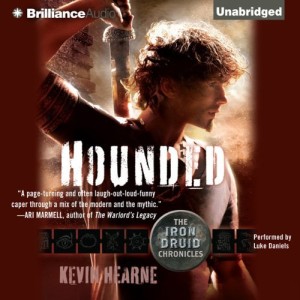 8 hrs and 11 mins

Hounded Audiobook

4.5 Hearts
I know so many people who have been reading (or well, listening) to this series for a while now. I know that they love it and I've yet to try it. That is until now. After finally knocking out a few series (my goal for this year was to finish up some new series before starting new ones), I decided that I was ready to tackle a new series. How to review this series? Most people have already read it. If you haven't I highly recommend that you start. I can't believe I waited this long.
Atticus O'Sullivan is a druid. The last druid to be precise. He is quite old, but tries mostly to live a peaceful life. He owns and runs a bookstore and apothecary in Tempe Arizona. That is until an old god that he has a past grief with comes calling. Next thing you know, Atticus has trouble at every turn.
I won't go into great detail, as there are so many reviews out there about this series. I will just say, that this is a great Urban Fantasy series, that is nicely told from a male's POV, which we don't have enough of in this genre (don't get me wrong, I love a good female heroine, but I also like a little diversity too). This series has vampires, werewolves, gods, witches (boy, does Atticus hate witches), ghouls and more. It is hard to know who to trust and who is out for their own gain.
There are a ton of great pop culture references in this book, which adds a great amount of humor to this book.
"You're not going to be in the hospital for weeks? Because that looks like a bullet hole in your shirt."
"As the Black Knight famously said, that's just a fleshwound."
"The Black Knight always triumphs!" Perry beamed. Monty Python is like catnip for nerds. Once you get them started quoting it, they are constitutionally incapable of feeling depressed.
"You will respect my authori-tah!" Oberon said, in a passable imitation of Eric Cartman. I reminded him that I needed to concentrate. Sometimes dogs forget; they just get too excited.
My favorite part of this first book in the Iron Druid Chronicles, Oberon, Atticus' Irish wolfhound. Atticus is bonded to Oberon, so that they can talk mind to mind. So while Oberon can't talk out loud, Atticus can have conversations with him that we can hear. Oberon is very much a dog though, so everything you think about a dog holds true. He has no sense of time. He gets overly excited when he sees Atticus, no matter how long Atticus was gone. He has the attention span of a two-year-old on a caffeine bender. All he thinks about is meat, different kinds of meat. He seems to be partial to sausages (I'm a little disappointed that at no point does he ask for bacon. What kind of talking dog doesn't want bacon. I always want bacon).
Hounded Audiobook Narration
4.5 Hearts
This is actually my first audiobook with Luke Daniels. I've heard for a long time about how great Luke Daniels was with narrations. I'm so glad I can now add him to my list of favorite narrators. He did a great job with this series. While being told from Atticus' POV, it still has plenty of female characters and Daniels nails them all. Once again, I have to give him kudos for nailing Oberon's voice. He really brought out the excitement that a talking dog would have about pretty much everything. He even brought the sorrow about things when Oberon had to do things he didn't want or when he thought he was a bad dog. I'm really excited to continue this series with his narration. I will also be on the lookout for other books with his narration.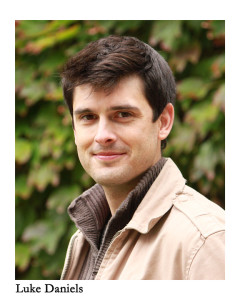 Narrator: Luke Daniels
Luke Daniels was born into a family of actors. Both his father and mother have been performing and teaching for almost five decades. It is because of their influence that, from a very young age, Luke and his two brothers often found themselves in rehearsal halls at repertory theatres all over the country; watching innumerable productions of Much Ado, Julius Caesar, and Midsummer's.
Luke's first theatrical role came at the age of 5 as Fleance in a production of Macbeth. He immediately loved the creativity and camaraderie of the theatre. (It also didn't hurt that he was allowed to miss school for certain performances.)
Over the years Luke has performed at many repertory theatres across the country, including the Utah Shakespearean Festival, Connecticut Rep., and Hope Summer Rep. in Holland, Michigan. Luke has his Bachelor's from Western Michigan University and his MFA in performance from the University of Connecticut.
Luke has worked professionally as a director, teacher, audiobook narrator, voice-over, commercial, and industrial actor.
But he maintains that the greatest role he has ever played is that of a Father to his daughter.
Reviewed by: