I Was a Teenage Weredeer Audiobook

By: 

C.T. Phipps, Michael Suttkus
Narrated by:

Arielle DeLisle
Published by: Crossroad Press 2/18/18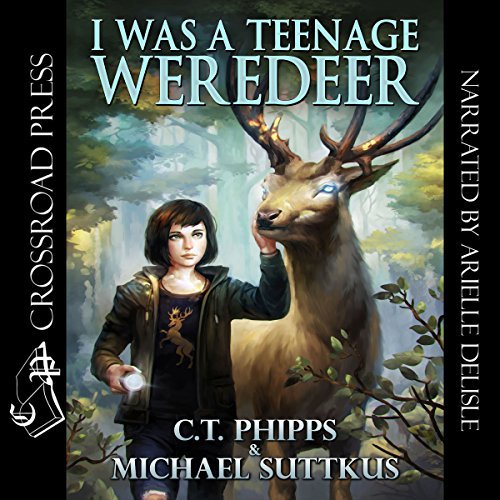 9 hrs and 54 mins

I Was a Teenage Weredeer Audiobook Sample
I Was a Teenage Weredeer Audiobook

4 Hearts
I had no idea of what to expect going into this book. When the author first mentioned it to me, I went on Goodreads to read the blurb (which isn't something I do a lot, but will on occasion). It sounded interesting enough and I knew I liked this author's writing style, so I decided to give this book a shot. I mean, I love non-traditional shapeshifters.
Jane Doe is a weredeer in a town full of shifters. Shifters are known in this world and most are larger and much more dangerous shifter types than a deer, so humans are scared of them. Most states have laws that allow you to shoot a shifter on sight. Jane lives in Bright Falls, Michigan, in a town of mostly shifters. Michigan doesn't have a shoot on sight law.
So Jane works as a waitress at her parent diner, Deerlightful Diner. Jane really wants to leave the town and is trying to save money to do so. That is before her best friend's sister dies and her brother is arrested for the murder. Jane has the power to see things when she touches them, so she sets off to prove her brother's innocence.
This is a fun tale full of a lot of suspense. There is not only the murder mystery, there is possible mob involvement, drug use and dealing, family not being honest with everyone. There is even a Maury Povich aspect to the story as family trees are brought into light.
I really enjoyed the different characters in this series. Jane is a great character who doesn't want to be who she is fated to be. I really liked Emma, Jane's best friend and werewolf. The mob boss, the police chief, Jane's family. I really liked them all.
You can't mention a story by C.T. Phipps without mentioning the pop culture references. This story is full of them. Star Wars and Tolkien are heavily predominate, but there are lesser ones, even Belinda Carlisle.
There are also puns. Many, many deer puns. Evidently, that is a thing. Weredeer and puns. It drives Jane crazy. She hates them. Her family uses them all the time and she can't stand it. Then other people make comments about the puns, which drives her crazy too. She avoids them at all costs, but really she doesn't.
This is a fun story that is full of humor and suspense. I really enjoyed my time in Bright Falls and I hope to get to visit there soon. If I had to fault this story for anything, it appears there might be a love triangle coming up. I'm not sure or not. So many people seemed to be interested in Jane. I guess it is her big, doe eyes. Anyway, it is fun story. I hope you'll give it a try.
I Was a Teenage Weredeer Audiobook Narration
4 Hearts
This is my first book with Arielle DeLisle. I have to say I liked her. She did a great job with the narration of this book. I thought she really brought Jane to life. There are quite a few characters and I never had issues with who was talking. She also did a great job with the different male and female voices. I would listen to her again.
C.T Phipps is a lifelong student of horror, science fiction, and fantasy. An avid tabletop gamer, he discovered this passion led him to write and turned him into a lifelong geek. He is a regular blogger on "The United Federation of Charles".
He's written Agent G, Cthulhu Armageddon, Esoterrorism, I Was A Teenaged Weredeer, Lucifer's Star, Straight Outta Fangton, The Supervillainy Saga, and Wraith Knight.
Narrator: Arielle DeLisle
Arielle DeLisle is a narrator, voice actor, and commercial producer based in Phoenix, Arizona. She has recorded more than sixty audiobooks, including dystopian young adult titles and Michael Wallace's Righteous series. She lives with her two young, dinosaur-loving kids and several mischievous cats.
I like to thank the author for providing me with a copy of this audiobook in exchange for an honest review.
Reviewed by: