Insidious Audiobook

By: 

Aleatha Romig
Narrated by: 
Savannah Richards
Published by: Audible Studios 01/13/15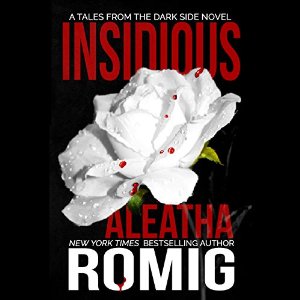 12 hrs and 47 mins
Insidious Audiobook Sample
Insidious Audiobook

4.5 Hearts
I've had this book on audio for a while and just never put it high up on my priority list (no idea why and is something that I regret now). After listening to the Into the Light, the first book by Aleatha Roming's The Light series, I decided I had to move this book up to the top of my TBR priority. I'm really glad that I finally got my but into gear and listened to this book. This is the only stand alone story by this author at this time. So it was great to jump in and have a fully complete story in one book.
Let me start by saying that this is a very dark erotic thriller. It is not a book that everyone will enjoy. There are things in this book that will have you cringing. Things that in real life would make you very sick and angry. This story is a work of fiction and nowhere is this written like this is something that should be allowed to happen without consequences in the real world. There are a lot of bad people in this story. Actually, there are very good people in this story. But the characters are excellent and the story amazing. I was on the edge of my seat needing to know what happens next throughout the story.
The story goes back in forth in time when Victoria Conway is eighteen and present day, ten years later. I really liked seeing how "Tori" was different as a full adult versus her as an eighteen year old trying to figure out the situation she was put into by her parents. Her stepfather has a huge gambling problem. He ran up some very large debts. Mr. Stewart Harrington offered to take care of those debts if only the eldest daughter would marry him. She is offered two contracts, both with a non-disclosure statement. She could walk away and let her father figure out his own debts and get $50,000 or she could agree to marry him, take care of her father's debts and use Mr. Harrington's wealth anyway she wished. Thing is, she didn't realize exactly what she was signing up for.
I can't really go into much more than that without giving away spoilers. There are tons of spoilery things in this book. Everything you think you know, only to find out that you were completely wrong. This story is told from Tori's POV, so we only know what she knows. There are even things that she knows that we don't find out too quickly.
This is a story of a girl who thought she was getting a fairytale, even if she arrived to it in an unconventional way. But the thing is, fairy tales weren't always so friendly. Before Disney got their hands on them, fairy tales were much darker in the original format by the Grimm Brothers. This story isn't for the faint of heart. Ms. Roming held no punches with this story. I had no idea what I was getting myself into when I picked up this audio. I loved every minute of it.
"That was years ago. I've learned my lessons well and played my role. No longer willing to be a victim, today I'm insidious."
Insidious Audiobook Narration
4.5 Hearts
This is my first audio with Savannah Richards as the narrator. I will have to say. I'm very happy with her narration. I thought she did a great job. There are a lot of men in this story, more men than women, and she handles them like a pro. I think she does a wonderful job with the differences in Tori at 18 versus Tori at 28.
Aleatha Romig is a New York Times and USA Today bestselling author who lives in Indiana. She grew up in Mishawaka, graduated from Indiana University, and is currently living south of Indianapolis. Aleatha has raised three children with her high school sweetheart and husband of nearly thirty years. Before she became a full-time author, she worked days as a dental hygienist and spent her nights writing. Now, when she's not imagining mind-blowing twists and turns, she likes to spend her time a with her family and friends. Her other pastimes include reading and creating heroes/anti-heroes who haunt your dreams!
Aleatha released her first novel, CONSEQUENCES, in August of 2011. CONSEQUENCES became a bestselling series with five novels and two companions released from 2011 through 2015. The compelling and epic story of Anthony and Claire Rawlings has graced more than half a million e-readers.
Aleatha released the first of her series TALES FROM THE DARK SIDE, INSIDIOUS, in the fall of 2014. These stand alone thrillers continue Aleatha's twisted style with an increase in heat.
In the fall of 2015, Aleatha moved head first into the world of dark romance with the release of BETRAYAL, the first of her five novel INFIDELITY series. She also began her traditional publishing career with Thomas and Mercer. Her books INTO THE LIGHT and AWAY FROM THE DARK will be published through this mystery/thriller publisher in 2016.
Aleatha is a "Published Author's Network" member of the Romance Writers of America and represented by Danielle Egan-Miller of Browne & Miller Literary Associates.
Narrator: Savannah Richards
This narrator is pseudonym for another very popular narrator.
Reviewed by: