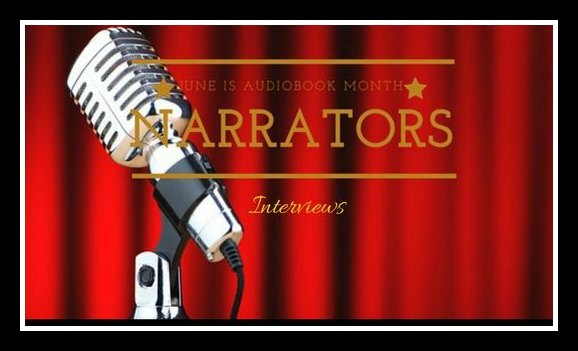 June is Audiobook Month. We will have several narrator interviews, along with other audiobook posts and of course audiobook reviews. Lastly, don't forget to check out our giveaway.
Meet Lorelei King
Lorelei is a multi- award-winning narrator of audiobooks, recording the works of best-selling authors Janet Evanovich, Darynda Jones and Patricia Briggs among others. In addition to numerous Audiofile Earphone and Audie Awards, she was voted Performer of the Year in 1999 and 2001 by the United Kingdom APA and Best Narrator of the Year by Audible.com in 2011.

Hot Listens Reviews of Lorelei King Books

Lorelei King's Twitter @LoreleiKing
An Interview with Lorelei King
1. How did you get involved in recording audiobooks?
I was in London working in animation, voicing cartoons, and one of the guys I worked for was producing an audiobook of American short stories – I was his American-of-the-moment, so he asked me to do it. I loved it, and discovered I had a knack for it – of course it helped that they were horror stories. That's one of my favorite genres. 🙂
2. What was your most challenging read? What made it so difficult?
There are different kinds of 'difficult'. I would say the most difficult book I've ever done technically was one that was set in 1800s South Africa. It was full of Scottish and South African men! Two accents I struggle with. I seem to recall crying and throwing the book across the room at one point. It was many years ago, and the title is mercifully blocked from my memory! 😀
Then there are books that are difficult emotionally, like The Stranger Beside Me by Ann Rule, which is about Ted Bundy, the serial killer. It was such dark subject matter, and I had doubts about wanting to contribute to 'keeping his name alive'. But I'd read about the girls he'd killed, and I decided, 'you know what – I'm going to do the book for them'. I kept their pictures around me as I read and they were like my angels. It was an interesting experience, one that stayed with me. But there's no denying it was a very hard read.
3. I remember when you tweeted about recording a Charley Davidson book and that you had to stop at least once for laughing and once for crying. I know that you read a lot of books with both emotions in them. Is there something that you do to try to get through those scenes without laughing or crying? I know that I've laughed out loud several times for that series which gets me some strange looks at work. 🙂
Oh, Darynda Jones and Janet Evanovich ALWAYS make me laugh at least once. There's really no way around it – we just have to stop recording until I can get some control. If we've had three or four goes at the same passage, and I STILL can't get through it, I'll try to think super-sad thoughts. But even that doesn't always work.
Crying is easier. If it's full out blubbing, we stop. But if the tears are controlled and it's just a bit of emotional wobble coming through the voice, I keep going. I don't think there's any harm in showing you've been moved by something while narrating. 🙂
4. Do you have any fun blooper stories or other kind of story about a book you were narrating (or maybe a show you were voicing)?
Oh, many years ago, a swear I did while recording slipped through into the final version! It was a very mild British swear word, but kind of amazing that it got past the producer, the editor, and a proof listener! It was pointed out to us by a librarian who'd thought it VERY amusing. It was a little embarrassing, but I was just grateful it wasn't worse!
5. I have to ask about your part in new Alien: Covenant movie. Is that a part you sought out to voice?
I didn't seek it out, but was thrilled to be asked to do it, as I'm a huge fan of the films – and it was especially meaningful as, coincidentally, I was stepping into the shoes of a friend and colleague who'd played MU/TH/UR in the original Alien. I wrote a little blog about it: http://www.loreleiking.com/alien_covenant.html
6. I know you do a lot of voices on TV too, like Wendy on Bob the Builder. Is there any big difference between recording for audiobooks than for TV or movies?
Audiobooks are a LOT harder! I think it's the hardest job that a voiceover does. It requires a tremendous amount of stamina, as you're responsible for ALL the voices as well as the narration – cartoons are a lot easier.
7. Which famous person, living or dead would you like to meet and why?
It would have to be the Greek poet Homer. I'm a HUGE fan of his poetry, especially Iliad, and I'd love to talk to him about what life was like in 8th(ish) century BC Greece. And I'd want him to know that it was his poetry that inspired me to do a degree in classical studies. Which I've just finished. 🙂
Thanks so much for taking the time to let us get to know you better. I know that there are many readers, like me, who are huge fans of Charley, Mercy and the Stephanie Plum series, among others.
Thanks for giving me the opportunity! I'm so very grateful to the readers – and it's wonderful to have the chance to interact with them…

Enter our Audiobook Month Giveway!
Open to all over 13 years-old. Winner will be announced July 1, 2017