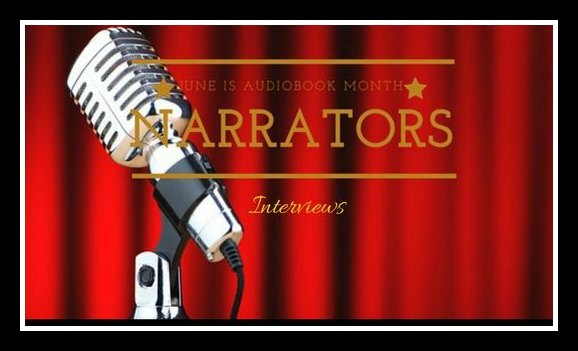 June is Audiobook Month. We will have several narrator interviews, along with other audiobook posts and of course audiobook reviews. Lastly, don't forget to check out our giveaway.
Meet Vikas Adam
Vikas Adam is a classically trained actor with numerous credits in stage, film, commercials, and television, in addition to his over 100 recorded audiobooks. He's quickly established himself as one who creates versatile, distinct, and clear voices for characters he embodies. Equally at home with a light piece of literature or a dark thriller, a short story or an epic novel (his longest—forty-nine hours!), Vikas's audiobooks have garnered numerous awards and nominations, including Earphones, various Best of the Year lists, and the Audie Award. When not recording, acting, or directing, he's a lecturer in the Theater Department at UCLA.

Hot Listens Reviews of Vikas Adam Books
An Interview with Vikas Adam
1. How did you get involved in recording audiobooks?
I did two audiobooks as part of a full cast production for Listening Library and author Bruce Coville back in the 90's. That gave me a slight taste of this art form. Flash forward to 2012 and I attended a workshop that Audible was hosting and accepting auditions for. I was asked if I could cold read the piece I had been given with an authentic Indian accent (based on the skill set on my resume). Two weeks later, I had my first book The Urban Jungle by Samrat which was a modern day take on The Jungle Book in Mumbai which I got to record at Skyboat Media under the amazing J. Paul Boehmer directing me (whom I ironically had met back in the 90s around the time I was recording for Bruce [Coville]). Work begat work, and I started with a lot of books that were by Indian authors or dealing with Indian subject matter. However, I got to meet more and more wonderful people in this industry who gave me opportunities to genre hop, which is what brings us to today.
2. What is your favorite thing about recording books?
To put it simply: I get to bring stories to life. I get to be a storyteller! As an actor, that's what my job is. Only this time, I get to play ALL the parts, bwah ha ha ha ha ha…(to quote Bottom from Midsummer: "Let ME play the Lion too!" For me, audiobooks are sonic theatre.
3. I love Bob Heartstriker and the voice you chose for him. How did you decide his voice because I think it is the perfect fit for him (but then I love all the voices you chose for the series)?
Thank you so much! I adore dear Brohomir Bob so much. I've publicly declared that I would want to play him if it ever became live action since he's so multifaceted that he'd be a dream to explore and bring to life, especially trying to find his physicality and voice for the world that would be created for the tv or film medium. When it came to finding his voice for the book…Rachel [Aaron] gave me plenty of info about him in the pages…his description, the fact that as a Seer he had this power—and those lines and descriptions of action that he'd do like leaving those cryptic messages for Julius gave me the freedom to play.
When it comes to finding voices, every bit of information the book gives me is valuable. Age, Temperament, Physicality, Appearance, etc etc etc From there I look at what archetypes they fulfill, what their wants and needs are—in Bob's case, it's revealing this puzzle a bit at a time…here's a jigsaw puzzle piece for you, oh look now there's another piece, oops never mind that's my sriracha breath mint…
No matter what he's saying or doing, and really this goes for every character, is that I have to make an active choice and know why I'm saying what I'm saying. There's a reason they are speaking…what is it? Are they trying to rile someone up? Seduce them? Demean? A character is not just saying something for the heck of it…there's always a reason and my job is to effectively make a choice and communicate that intent. And it comes across clearer when you have strong writing, which is a testament to Rachel, C. Robert Cargill, Salman Rushdie, and a host of amazing authors whose words I've had the pleasure to narrate.
4. What was your most challenging read? What made it so difficult?
Challenging reads come in many forms. Sometimes it's about having a very difficult time connecting with the text due to writing style, subject matter, what's going on in your life, etc and all of that can make it twice as hard because no matter how I may feel about the text or myself that day, I have to remember that someone took the time and energy to write this—they have spent countless hours with this and it's one of their children–as a result, I must respect their work by giving it my all and not coloring the text with how I fel. One of the beautiful aspects of my job as a narrator who has gotten to record amongst a variety of genres, is that I've learned more about strong writing than I would have if I just had to read the books. By bringing voice to the words, it brings a new life, and you hear what works and what doesn't.
Challenges also come when I love a book so much…I just want to do it justice. And that kind of over thinking can be detrimental to the performance as well.
I would have to say that a turning point in my career that helped me grow as a narrator was recording The Far Pavilions by M.M. Kaye. It's an epic that runs 49 finished hours and I had to record it over 16 days with barely any time to prep. It was challenging since strong choices had to be made and I had to be satisfied with them. I was very lucky in that I had about 4 amazing directors who were along the journey with me. Another challenging read was Lion: A Long Way Home for which I had to record the entire book in an Australian accent.
5. Consistency in character voices throughout a series is very important to me and many listeners. How do you remember how each character's voice/tone/style when you go to read the following books, especially when you consider there is usually a year or more between each release?
I think because I'm such a stickler and can still hear sound bytes from yesteryear from movies, shows and music, in my head, it's developed an uncanny superpower of knowing most of the characters, especially when I have a particular affection for them. However, we also always catalog voice reference files as we record, whether at an outside studio or when I self record.
6. Is there a genre you love to do more than another?
I am so fortunate that I get to record amongst a variety of genres so it's tough to choose. I love a good urban fantasy, or a children's tale that sweeps you away to another land…something inspirational and feel good. I enjoy a romance now and then cuz hey…all you need is love, right? But sometimes I crave a dark descent—something scary—a ghost story or dark world.
7. Which famous person, living or dead would you like to meet and why?
Can't choose one so let's do dinner and drinks: Neil Gaiman, Tori Amos, Oprah Winfrey, and Stephen Colbert. All of these individuals are multifaceted creatures who have very fascinating viewpoints of the world and I would love to hear their thoughts about…hell, anything. Life, their journeys, philosophy, how can we help the world…the type of meal where you let the shields down and just speak cuz you're not trying to impress anyone. I'd need a time turner and a huge appetite to be able to truly enjoy that dinner. Or maybe make it a full day event with all three meals and day drinking!

Enter our Audiobook Month Giveway!
Open to all over 13 years-old. Winner will be announced July 1, 2017