King Audiobook

By:
Eve Langlais
Narrated by:

Chandra Skyye
Published by: Tantor Media 04/25/2017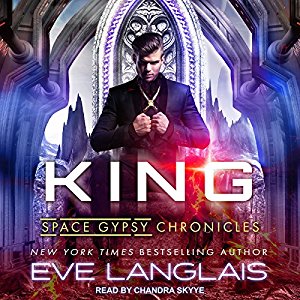 8 hrs and 47 mins
King Audiobook

4 Hearts
So, this is the final installment of the Space Gypsy Chronicles. This has been a hard series to review because if I go into what is going on in this story, it will give away spoilers for the previous books and I don't like to do that.
Needless to say, the story of Rafe and Emma, Mikhail and the rest of the Rhomanii comes to an end. There is a lot that happens in this book as the Rhomanii finally find their way home. The path on the way home isn't without its difficulties. Also, home isn't what is expected either.
There are many things that are brought to life in this final story. Pretty much all of them, caught me by surprise. The ending really caught me by surprise. I'm still not 100% sure how I feel about it. On one hand, I'm not happy with out this ended. On the other, the ending really kept me on my toes. Often, I've gone into the end of the series with some idea of how things are going to wrap up in the end. That didn't happen with this book. I give props to Eve for throwing a huge curve ball at the end.
King Narration
3.5 Hearts
After reading comments on my previous review with Chandra Skyye, I realized that I beat her up a little too much in my review of her narration. I think the issue that I ran into was listening to two series with this same narrator. It had me listening to her with two completely different stories and hearing similar voices. When I was listening to just one series at a time (with more time between each book), I found that I was used to her and enjoyed the narration. Two series, with the books being released closer together, I found that it was just too much of the same voices. I'm going to stick to one series at time with this narrator from now on.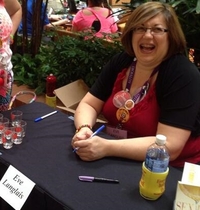 Hello, my name is Eve Langlais and I am an International Bestselling author who loves to write hot romance, usually with werewolves, cyborgs or aliens .
I should warn you, I have a twisted imagination and a sarcastic sense of humor something I like to let loose in my writing. While well known for my shifter stories, I am also extremely partial to aliens, the kind who like to abduct humans and then drive them insane…with pleasure. Or do you like something a little darker, more serious? Then check out my cyborgs whose battle with humanity have captivated readers worldwide.
Narrator Chandra Skyye
Chandra Skyye loves bringing characters and stories to life through voice acting and singing the blues. A lover of life, she spends her spare time being creative, appreciating nature, and sharing fun times with nice people and good dogs.
I like to thanks Tantor Media for providing me with a copy of this audiobook in exchange for an honest review.
Reviewed by: