Lucky Witch Audiobook
By:
Danielle Garrett
Narrated by:

Amanda Ronconi



Published by: Tantor Audio 09/04/18

Beechwood Harbor Magic Mysteries #5
6 hrs and 14 mins
Lucky Witch Audiobook Sample
Lucky Witch Audiobook

4 Hearts
We are back in Beechwood Harbor. Holly's life seems to be on track. She has her magic potions license and can legally make and sell potions. Things seem to be looking up with her and Adam. Nick is dealing with his issue from Witch Way Home (being vague to avoid a spoiler from book four).
It seems that the biggest issue is that someone is moving garden gnomes around in people's yards and leaving scavenger hunt clues around the town. That is until someone is shooting at people behind the manor. One man ends up dead and Holly is back on the case to figure it all out.
Beechwood Harbor Magic Mystery series continues to be a lot of fun. I really enjoy the characters. The mysteries are fun and suspenseful. You never know where Holly will end up. There is some romance and the drama that is wrapped around it can get a little much at times. But I do really like Adam and Holly together. I just think they both need to be better about communication and compromising.
There are a lot of changes that came in this book. I hope that means we will be getting another book (this is the last one on Goodreads), because I want to see how this all plays out.
Lucky Witch Audiobook Narration
5 Hearts
Amanda Ronconi continues to nail the narration of this series. There isn't much to say that I haven't already said about Amanda Ronconi. She is one of my favorite narrators, especially for funny stories. If you haven't tried her, you really must give her a shot. You won't regret it.
From a young age, Danielle Garrett was obsessed with fantastic places and the stories set in them. As a lifelong bookworm, she's gone on hundreds of adventures through the eyes of wizards, princesses, elves, and some rather wonderful everyday people as well.
Danielle now lives in Oregon and while she travels as often as possible, she wouldn't call anywhere else home. She shares her life with her husband and their house full of animals, and when not writing, spends her time being a house servant for three extremely spoiled cats.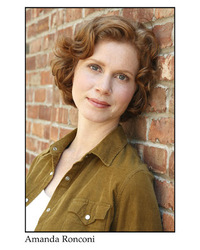 Narrator: Amanda Ronconi
I am an actress, narrator and writer who divides my time between New York City and Upstate New York.  I have a BFA from NYU where I studied at the Stella Adler Conservatory.  I have performed in theaters around New York City as well as regionally at The Alley, Capital Rep and many productions at the Shakespeare Theatre of New Jersey.
My Off-Broadway solo comedy, Shirley at the Tropicana, received critical acclaim and was subsequently featured in The New York Times.  Film and TV credits include Daydream Believer (Slamdance 2001's Best Dramatic Feature winner), The Understudy, Deadly Sins (ID Discovery), IFC's Get Hit and Chasing Paradise. National network and regional commercials include Chase Bank, Sony and Blue Cross/Blue Shield.  My voiceover work encompasses over 70 audiobooks available on Audible.com.
I like to thanks Tantor Media for providing me with a copy of this audiobook in exchange for an honest review.
Reviewed by: