Made for Sin Audiobook

By:
Stacia Kane
Narrated by:

Aiden Snow
Published by: Tantor Media 08/30/2016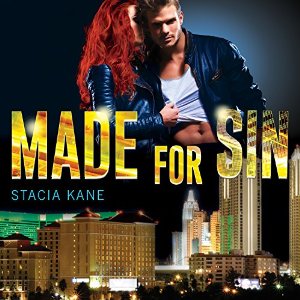 8 hrs and 7 mins
Made for Sin Audiobook Sample
Made for Sin Audiobook

3 Hearts
I've been a huge fan of Stacia Kane for several years now. I started off reading her Megan Chase series and then really fell in love with her after starting the Downside Ghosts series (Downside is especially good on audio). It has been since since 2012 that I've gotten a full length book from Ms. Kane. Needless to say, I was pretty excited.
Made for Sin is a story that, of course, is set in Sin City itself, Las Vegas. The story is told by E. L. Speare (don't ask him his first name), a PI with a dark side. He has a demon inside him. He must commit a sin everyday or the demon takes over, only to leave Speare waking up to carnage. It can be any of the mortal sins, but the bigger, the longer the demon will let him go before he has to commit the next sin. Shoplifting is one of the smaller sins we see him commit to pacify his demon.
When a body start to turn up with a piece missing, as in a whole arm taken from the shoulder, Speare is on the case to help look for what is going on. Then even more bodies with missing pieces start to turn up. There is also a demon sword involved. Speare decides the best place to start looking is for someone who just got their hands on the demon sword. He recruits a thief, in Ardeth Coyle, who also dealer in occult artifacts.
This was a good story. It has all the things you expect from a solid Urban Fantasy book. The world that Kane built in Vegas does it proud. Add in the magic and it is a solid location that any UF fan would enjoy. Speare is a great tortured hero, who is working hard to be "good". Ardeth is a solid heroine who isn't trying nearly as hard to be good. The suspense and action are all there. All in all, this is a solid story. That being said, I didn't love it as much as I expected to. I think this book might have suffered from "too high of expectations" and "over anticipation". As much as I loved Kane's first two series, I think I expected this one to blow me out of the water and it just didn't do that. Kane mentions on her blog, that this book could be a stand alone or possibly a start to a new series. If there is a book two, I will definitely give it a go. I know that it is often that the first book of a series is okay, but get way better with more stories. I'm sure Kane could do that, as I've loved her other series. I really hope that there is a book two.
Made for Sin Narration
4 Hearts
This is my first book with Aiden Snow as narrator. I really liked him. I thought he did a great job with our tortured hero. I also liked his women's voices. The pace was great. I thought he really brought the darker side to the story. He is definitely a narrator that I will be on the look out for in the future.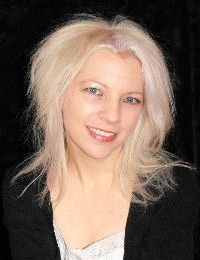 Stacia Kane is the author of the light-hearted romantic urban fantasy "Megan Chase" series starting with PERSONAL DEMONS.
She currently writes the gritty dystopian urban fantasy "Downside" series starring Chess Putnam and featuring ghosts, human sacrifice, drugs, witchcraft, punk rock, and a badass '69 Chevelle. She bleaches her hair and wears a lot of black.
Narrator Aiden Snow
Aiden Snow is a narrator of Romance and Erotic Romance audio books. You can find out more information at his website TheRomanceNarrator.com (coming soon)
I like to thanks Tantor Media for providing me with a copy of this audiobook in exchange for an honest review.
Reviewed by: