Michael's Wings Audiobook

By:
Tiffany Reisz
Narrated by: 

Guy Locke
Published by: Tantor Audio 11/07/17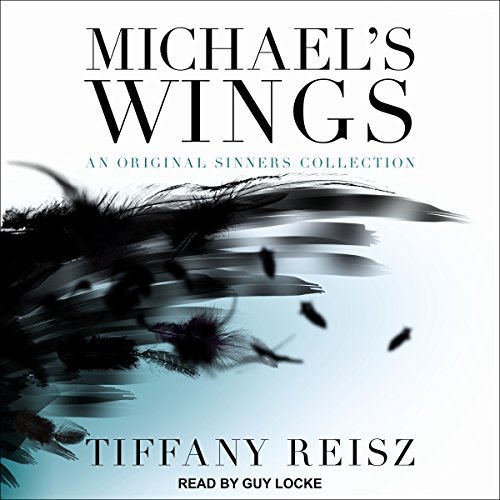 Michael's Wings Audiobook Sample
Michael's Wings Audiobook

4.5 Hearts
So this is a collection of short stories that is set in Tiffany Reisz's Original Sinners world. They focus on Michael and Griffin who are featured in The Angel. I highly recommend that you have at least read The Angel before starting this anthology. You really need that story to understand where Michael and Griffin are in their lives to enjoy these stories. There are also events in that book that you need to know before reading these.
If you haven't tried the Original Sinners series, I highly recommend it it. I'm not a big reader of contemporary romances, but I do like a well written BDSM story. This series gives new meaning to well written BDSM story. The stories are excellent. The characters are amazing. Tiffany Reisz pushes boundaries that you didn't even know you wanted pushed. You will want to continue reading if to just spend more time with her characters. I think I'm in love with Nora Sutherlin.
Michael's Wings (brand new story)
This is the story about Griffin asking Michael to marry him and how Michael processes it. There is also a bit about Griffin's past with drug use. He learns that a friend he met in rehab has died. Michael and his mother help Griffin through that. Nora helps Michael come to a decision about the marriage. I love how Michael says "yes" too.
Griffin in Wonderland
This is where Griffin meets Kingsley, Søren and Nora for the first time. It is also where Kingsley introduces him to BDSM. Everything else is history.
Gauze
I really loved this story. Michael has a bit of an episode when he looks at his wrists and sees the gauze. This time they are from a tattoo. But the first time, it was because Michael had attempted to commit suicide. Griffin has a great way to help Mick (Griffin's pet name for Michael) through this issue.
The Theory of the Moment
Griffin and Michael's mother have a lunch together. They talk about Michael, Griffin, Michael's father, Nora, Michael and Griffin together. It is a great talk. I love how much Michael's mother supports him and tries to understand him.
The Couch
Griffin and Mick's first fight and make-up sex.
A Better Distraction
Michael is working on an art project. Michael talks to Griffin while he works. Really sweet story.
Christmas in Suite 37A
This is a Christmas story. Part of it is Griffin with Nora. Griffin and Michael were on a break that Michael requested while he went to Rome for school. This is their coming back together. There is a nice dinner and, of course, make-up sex again.
If I was going to fault this anthology for anything, I would've liked to have seen the stories in chronological order. We were jumping back and forth a bit in Michael and Griffin's relationship. This is a must read/listen for any fan of the Original Sinners series.
Michael's Wings Audiobook Narration
3.5 Hearts
This is the first time I've listened to Guy Locke. I'm not sure that he was the best guy for this story. It wasn't that I thought he did a bad job. It was the voices didn't really fit with my idea of these characters. I thought both Griffin and Michael's voices were too deep. I didn't really like this voice for Søren or Kingsley either. Funny thing is, that I liked his voice of Nora best of all the characters. I think this is one reason that having several different narrators for a single series can be problematic. Each narrator has their own voices, so the reader is forced to have a completely different voice for the characters they love. That isn't really the fault of the narrator. So while I wasn't a huge fan of Locke for this book, I would be more than willing to try him on a different book. One last thing, I did think his pace was slow, but I increased my listening speed to more than my normal and it was perfect.
Author: Tiffany Reisz
Tiffany Reisz is the author of the internationally bestselling and award-winning Original Sinners series for Mira Books (Harlequin/Mills & Boon). Tiffany's books inhabit a sexy shadowy world where romance, erotica and literature meet and do immoral and possibly illegal things to each other. She describes her genre as "literary friction," a term she stole from her main character, who gets in trouble almost as often as the author herself. She lives in Lexington, Kentucky with her husband, author Andrew Shaffer, and two cats. If she couldn't write, she would die.
Narrator: Guy Locke
Guy Locke has been a happy nomad for most of his life, having lived throughout the United States and Canada and adventured across Europe and Asia. A lover of the beauty of language, he is also an avid fan of hockey and baked goods. He can usually be found by some body of water or other, seeing how long he can hold his breath.
Reviewed by: