Midnight Wolf Audiobook

By:
Jennifer Ashley
Narrated by:

Cris Dukehart
Published by: Tantor Media 05/15/2018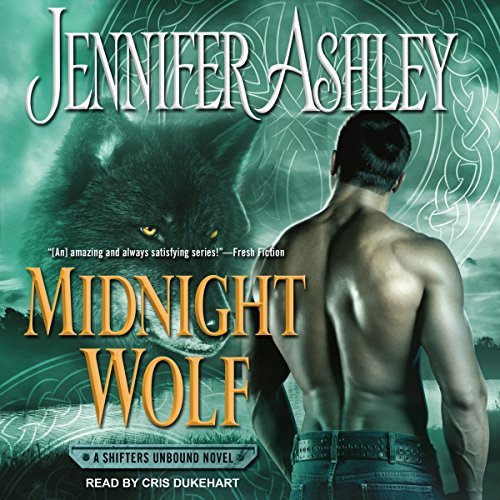 9 hrs and 42 mins
Midnight Wolf Audiobook Sample
Midnight Wolf Audiobook

4 Hearts
I so love this series. Everytime I meet a new character, I fall in love. Angus Murray is a wolf shifter and single dad. When Shifter Bureau comes and offers him a job he can't refuse (as in they have his son), he goes on the hunt for a collarless shifter, Tamsin Calloway. He has know idea what is in store for him.
Tamsin has been on her own for a while now. She's found that alone she can hide better. She's already lost her sister and her mom is locked up in a shifter town. She can't risk going to see her. Better to be alone. That is until she's caught by Angus, or should I say a gator in the bayou that Angus pulls her from.
While, she understands his need to protect his son, capturing her isn't endearing Angus to her. At least not at first. She quickly learns that Angus is all heart. He is willing to do what is necessary to protect her, even from Dylan Morrissey.
Angus's son, Ciaran, is so sweet. I just love all the kids in this series. They all just steal my heart (though Olaf is still my favorite of all the kids). They are usually minor characters, but they play such a huge roll in the lives of those around them. I would love to read an anthology from all the different kids' POV (**hint, hint**).
Well, we learn more about the fae. Lady Aisling makes an appearance and shares more about the fox shifters. We also get to see many characters from the past; Tiger, Sean, Dylan, Zander and Ben the goblin/troll. We even get to visit the sentient house in Louisiana. We even meet some new people, Dante and uncollared bear shifter who runs a traveling carnival and his mate, a half-fae, Celene, along with their daughter, Brina. Brina and Ciaran become fast friends.
I continue to love this series. While, I think you can follow along with the romance in this book without having read anything previous in the series, I think I would start with book one. There is a lot going on with the shifters, humans and fae. This part of the story can be complex and while it is explained, I don't know if it is in enough detail to really grasp what is going on. I also think knowing some of the past characters, like Tiger and Dylan, which need to be explained more from the previous books.
Midnight Wolf Narration
4 Hearts
I continue to love Cris Dukehart's narration of this series. She has no problem with the evergrowing cast of characters. There are a few different accents in this series that she nails also. I mentioned how much I like the kids, she really does a great job with their voices as well. So many different ages throughout the series and she really makes me feel like I'm listening to actual children. She does a good job with male and female voices and I love her pace and tone. Whether its a sexy scene, sweet part or more action, she always uses the right pace to set the scene.
NY Times Bestselling author Jennifer Ashley writes historical and paranormal romance and historical mysteries, as Jennifer Ashley, Allyson James, and Ashley Gardner.
Jennifer's novels have won RWA's RITA and RT Reviewer's Choice awards. More about her books at http://www.jenniferashley.com, http://www.allysonjames.com, and http://gardnermysteries.com.
Narrator Cris Dukehart
Lives in post-it note cottage… spends days talking to self in small padded room. Mom… Audiobook Narrator… Wearer of fun socks.
I like to thanks Tantor Media for providing me with a copy of this audiobook in exchange for an honest review.
Reviewed by: