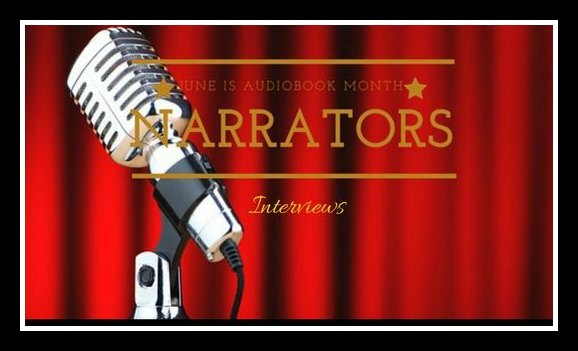 June is Audiobook Month. We will have several narrator interviews, along with other audiobook posts and of course audiobook reviews. Lastly, don't forget to check out our giveaway.
Meet Andrea Emmes
Audible Best-Selling Narrator and 2018 Audiobook Reviewer's Listener's Choice Award Winner, Andrea Emmes was born in Hollywood, FL and grew up in both Tennessee & Rhode Island, started her career in musical theater and has a Bachelor degree in Game Art & Design and worked as a game designer for Disney Interactive for a minute. A total Book Nerd, now enjoys narrating audiobooks at her home studio in San Jose, California. Her wide range of character voices and dynamic/emotionally invested performances has reviewers and listeners alike commenting on how she effortlessly pulls listeners in and has versatility and charisma. Andrea is a proud member of SAG-AFTRA & APA.

Andrea Emmes's Audible Listings

Andrea Emmes's Twitter @aemmes

Andrea Emmes's Instagram @aemmesnarrator
An Interview with Andrea Emmes
1. How did you get involved in recording audiobooks?
I've had a lot of great opportunities over my career to do some cool things – sing and dance on stage, be a magician's assistant on a cruise ship, design video games for Disney, to name a few. In 2014, I was struggling to find more work as a game designer and my husband, an avid audiobook listener, said to me one day, "Hey, I think you'd be really great at this!" He's brilliant and I'm so glad he suggested this because I love narrating! I did a lot of research upon starting, got set up with a coach and four years later, I realize that I have one of the coolest jobs ever! I've always loved to read and now I get to do it for a living. It's pretty rad.
2. What type of prepwork do you do before recording a new book? Do you prepare differently if the book is standalone or first in a series versus later books in a series?
I always read the book first and take a lot of notes. I have a spreadsheet that I list all of the characters that are in the book, descriptors, accents, quirks, subtext, pronunciations, etc. If I have a series, then I put each book on one sheet so it's easiest to find when recording.
3. Do you narrate every book that comes your way or have you ever turned one down. And if you have what made you decide not to go forward with this project?
Great question. As an actor, there isn't really a book I wouldn't necessarily do. However, I will not narrate a book that glorifies abuse, rape, pedophilia, genocide, etc. I have pushed a book back due to poor editing/tons of typos but that's not that often.
4. What is the element of narration that you find comes easiest (accents, age, emotion, rhythm of the story)?
I feel really dialed into the 1st person angsty young adult characters and love getting stories that have a lot of emotional content.
5. What is your favorite thing about performing audiobooks?
As a reader, we get to immerse ourselves into an author's story, get to know their characters and escape into a new world for a while. What I love about narrating is that I'm an active participant in that experience for the listener.
6. What was your most challenging read? What made it so difficult?
Little Women. This is such an iconic, legendary classic and one of my favorite books growing up and I knew that I wanted to do as good of a job on it as I could to honor Louisa May Alcott, her legacy and the legacy of Jo and her sisters. It was such an honor that it hit the Best Seller's list last year.
7. Which famous person, living or dead, would you most like to meet and why?
Always a hard question for me to ask, but as of right now, I'd really love to meet Kelly Clarkson. I've been watching The Voice this season and loving her exuberant and genuine personality, her love for music and her singers. I've been a huge fan of hers since she won American Idol. I'd love to sit down with her, have a great meal and chat about everything and nothing.
Andrea Emmes Audiobooks
The Viking's Chosen by Quinn Loftis
Digital Horizon by Sherry Ficklin
Maple Syrup Mysteries by Emily James
Protective Custody by Lynette Eason
Andrea Emmes is giving away some audiobooks.
Open to all over 18 years-old. Open to all who can receive audiobook codes from Audible. Five random commenters will receive any two books narrated by Andrea Emmes. Winners will be announced July 2, 2018.

Enter our Audiobook Month Giveway!
Open to all over 18 years-old.
By entering this giveaway you agree to our privacy policy.