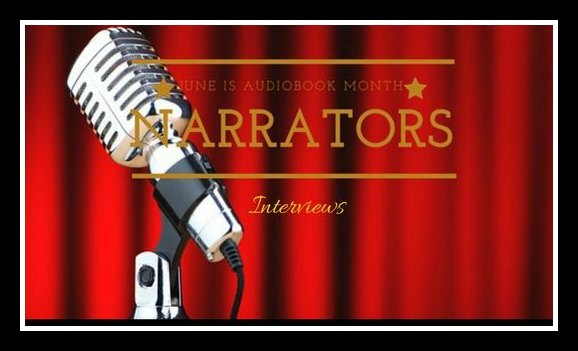 June is Audiobook Month. We will have several narrator interviews, along with other audiobook posts and of course audiobook reviews. Lastly, don't forget to check out our giveaway.
Meet Jeffrey Kafer
Jeffrey Kafer is a full-time SAG-AFTRA audiobook narrator. He has narrated over 500 books in almost every genre for such authors Clive Barker, Steve Alten, Maya Banks, Gregg Olsen and many others. He has 2 degrees in cinema and broadcasting and spent the first part of his career as a video game tester for Microsoft before following his true passion of acting. He's been on stage since he was 13 (his mom still has the bellhop costume she made) and currently lives in Los Angeles with his family and dog.

I'm hesitant to promote a particular series or author because then the other authors I've worked with would feel slighted. Is there something of mine that YOU enjoyed? I'm happy to offer 3 codes for whatever you suggest.

Jeffrey Kafer's Audible Listings

Jeffrey Kafer's Twitter @JeffreyKafer
An Interview with Jeffrey Kafer
1. How did you get involved in recording audiobooks?
I began like a lot of narrators: As a voracious listener. At the time, I was a video game tester for Microsoft and had a long commute. I filled the time with audiobooks, fell in love with the medium and figured I'd give it a go. So while at Microsoft, I narrated some free books for Podiobooks.com. There were…. not great. You might still be able to find them out there, but I won't give you a link and make it easy for you. 🙂 While at Podiobooks, an author named Jeremy Robinson found me and asked me to narrate his 2 novels at Podiobooks.com as promos for his upcoming Chess Team series. That new series got picked up by Audible and he brought me along to narrate.
Fast forward 2 years and I get laid off at Microsoft. Finding that I was no longer qualified to work in video games, I slowly transitioned to working full time in voice over and audiobooks. 500 books later, and I've not looked back.
2. Do you have to prepare differently if it is a new series and/or author that you haven't worked with, compared to a new book in a series you've been reading?
I don't prep differently, but the prep is easier for series that I've done before. I don't need to start from scratch and define the characters. I've done them all before! But there's also something fun about taking on a new series, because I'm able to explore new voices and characterizations.
3. Do you narrate every book that comes your way or have you ever turned one down. And if you have what made you decide not to go forward with a project?
I often turn books down for scheduling. I hate doing it, but if I'm booked up for 2 months and someone needs it done in a month, then I don't have a choice. As for rejecting a book based on content? I only did that once. It was a nonfiction book that was hard-core right wing and I just felt I wouldn't be able to do it justice since it was so polar opposite of my own person beliefs. Plus I didn't want to be known as a "conservative" narrator to avoid being cast on more books in the same vein. I knew the book would be done by someone else, so no harm, no foul.
4. Do you have any great blooper stories?
Sort of. It's more a cautionary tale. I was doing a title and the author told me it was a rush. I warned him that I wouldn't have a chance to read the book ahead of time so it would be great if he could provide any character bios, accents, mannerisms, etc. He said there was nothing. On page 354, the main character: "'I'm going to the store', he said in his Canuck accent". Needless to say, I hadn't been doing a canuck accent. I worked it out with the author and we had a chuckle, but I was a little frightened for a while.
5. You've narrated in a ton of different genres, though mostly romance, thrillers and sci-fi (you seem to be the king of supervillains). Is there a genre you enjoy recording more than others and why?
I love all my children equally. 🙂 But I enjoy comedy the most. Be that romantic comedy with funny banter, or sci-fi comedy, or the Supervillainy satire, or the dark comedy of the Shadowmaster series, if I have to stop recording because I'm laughing, that's a good thing. I love knowing that I'm going to make people laugh and I get really excited when a new comedy release comes out. And at the risk of bragging, I think I have the chops for it.
6. Does the genre change how you approach/prepare for a novel?
No. because my job is all about truth. I'm gonna get actor-y here so bear with the self-indulgence. My job is to represent the character's truth in the moment. The character's don't know they are in a romance novel, or a supervillain saga, or sci-fi space opera. What they are experiencing is real TO THEM in that moment. So I have to convey that real emotion as the characters would experience it. So my job in prep is to find the character's truth and act that.
Phew. OK, Acting class adjourned.
Jeffrey Kafer Audiobooks
Food of the Gods: The Search for the Original Tree of Knowledge : A Radical History of Plants, Drugs, and Human Evolution by Terence McKenna
Jon Reznick series by J. B. Turner
The Shadow Master series by M. K. Gibson
The Supervillainy Saga series by C.T. Phipps
Darkness series by Katie Reus
Only series by Cristin Harber
K-9 Rescue series by D. D. Ayres
Joe Tesla series by Rebecca Cantrell
Jeffrey Kafer is giving away three audiobooks.
Open to all over 18 years-old. Three random commenters will win any one of the audiobooks narrated by Jeffrey Kafer. Winner will be announced July 2, 2018.

Enter our Audiobook Month Giveway!
Open to all over 18 years-old.
By entering this giveaway you agree to our privacy policy.