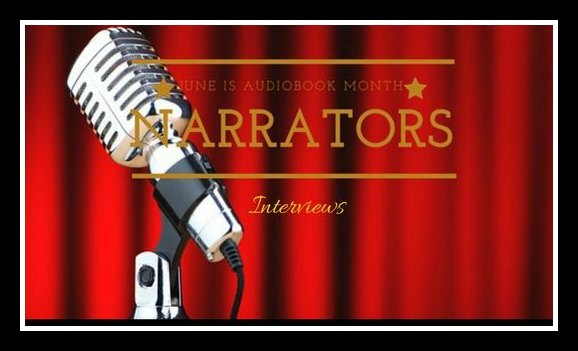 June is Audiobook Month. We will have several narrator interviews, along with other audiobook posts and of course audiobook reviews. Lastly, don't forget to check out our giveaway.
Meet Lia Langola
Audiobook narrator for sexual self-help books, steamy romance, and erotica.

Lia Langola's Audible Listings

Lia Langola's Twitter @LiaLangola
An Interview with Lia Langola
1. How did you get involved in recording audiobooks?
Audiobooks narration came into my life as way to continue acting. I'm theatre trained, and when a colleague suggested I look into it, audiobook narration seemed like a perfect fit. Plus, I worked in an 'adult novelty' store for several years where educating customers about sex and the accoutrements one can use to gain sexual pleasure was strong. I found several wonderful adult sex-ed books to narrate which allowed me to continue helping others seek intimate joy with themselves and/or their partner(s).
2. What type of prepwork do you do before recording a new book? Do you prepare differently if the book is standalone or first in a series versus later books in a series?
With any book, I read the script, take notes on the characters/locations/accents/etc., and follow-up with the author (when possible) for any additional information. For series, if the author knows where the story is going and can share the details, I always ask about new locations/reoccurring characters. Important information when creating the characters.​
3. Do you narrate every book that comes your way or have you ever turned one down. And if you have what made you decide not to go forward with this project?
I have turned a few projects down. Typically it's been do to scheduling, but sometimes a book is offered that is poorly written and/or edited. Admittedly, when I first started, I did a few books that definitely needed more editing, but did them anyway. Live and learn!
4. What is the element of narration that you find comes easiest (accents, age, emotion, rhythm of the story)?
Based on my theatre background, I feel character development/understanding is a strong suit for me. I'm fortunate to have a strong imagination that allows me to "see" the book in action.
5. What is your favorite thing about performing audiobooks?
Delving into a new world. Playing characters that are both like & unlike me. It's great fun to discover new characters and give them a voice.
6. What was your most challenging read? What made it so difficult?
Most challenging read… hmm…. there was a short story in a collection I narrated early on that went beyond my comfort level. The characters' ultimate surrender to physical pain, and psychological torture and humiliation was difficult to process, even though I was portraying a character, not myself. It's a very well-written story, so that helped, but the psychological torment was not something I related to at all, thus making it a challenge to narrate.
7. Which famous person, living or dead, would you most like to meet and why?
I would like to meet Anais Nin. My introduction to erotica was her collection of short stories, "Delta of Venus."
Lia Langola Audiobooks
Wherever It Leads by Adriana Locke
Checkmate Duet series by Kennedy Fox
The Players Club series by Erika Wilde
Clandestine by Ava Harrison
Obsidian series by Victoria Quinn
Better Sex in No Time: A Guide for Busy Couples by Joesy Vogels
Lia Langola is giving away some audiobooks.
Open to all over 13 years-old. Open to all who can receive audiobook codes from Audible. Two random commenters will receive Penthouse Variations on Kink by Penthouse Variations. Two random commenters will receive Quick Sex by Alex Algren. One random commenter will receive Better Sex in No Time by Joesy Vogels. Winners will be announced July 2, 2018.

Enter our Audiobook Month Giveway!
Open to all over 13 years-old. Winner will be announced July 2, 2018.