NOS4A2 Audiobook

4.5 Hearts
This is my first book by Joe Hill. I can say that I'm impressed. He does his father (Stephen King) proud. I got excited about this book when I read the review by TheGeekyBlogger last year. So when I push myself to read more horror this Halloween, I knew this one had to be on my list.
First, I will tell you, the title of this book is pronounced "Nosferatu". I was always horrible as figuring out vanity plates, so I didn't figure this out until I heard the narrator say the title of the book. Then I started wondering if the book is about vampires. Well, kinda.
Vic (short for Victoria) can use her bike to travel across a bridge which doesn't exist in reality any more. This bridge was torn down when she was very young. Now she can use it to take her places she wants to go to find things. For example, she uses her bike and the bridge to go back to sub shop where her mom lost her bracelet. It was very far away (I can't remember exactly how far, but it is farther than a child could ride a bike).
Then there is Charlie Manx. He has his car, a Rolls Royce Wraith with a special license plate, NOS4A2. His car works the same way as Vic's bike, it can take him places. It also takes him to a place that isn't exactly in reality, Christmasland. He takes children to Christmasland, but they become changed there. He is quite the villain, especially with his sidekick, Bing, the Gasmask Man.
This is a very oversimplification of the story. There are other very important characters like Maggie Leigh, Bing, Bruce Wayne (Vic's son), Lou (Vic's boyfriend and Wayne's father). I don't know how to even give a good summary without writing several pages and giving away details that are better learned while reading the story. Needless to say, the story is complex and a little long winded at times, but well worth the read. There are some pretty creepy pieces to this story and some things that I completely didn't expect. If you're looking for a good horror story, I highly recommend this one. I will be checking out more books by this author.
NOS4A2 Audiobook Narration
4.5 Hearts
This is my first book with Kate Mulgrew as the narration. I can say that I was impressed. This book had a lot of characters and she did a great job with all of them. Maggie Leigh had a severe stutter which Kate handled very well. Bing was slow because of a head injury and she pulled off his voice as well. She gave Charlie Manx a very creepy voice as he should have. She handled all of this very well and kept me enthralled with this long story. I would love to have her as my narrator again.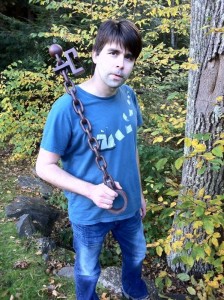 Joe Hill is the author of three novels, Heart-Shaped Box, Horns, and NOS4A2, as well as a prize-winning collection of stories, 20th Century Ghosts. He also wrote a pair of comics: Locke & Key and Wraith (which ties into the world of NOS4A2). Some nice people gave him an Eisner Award for his work in funny books, which is a great honor, even if "funny" probably doesn't do a good job of describing the kinds of things that happen in the comics. Come to think of it, his comics aren't very comic either.
You can get nearly daily doses of his pithy one-liners and mind-numbing insights over on Twitter, where he goes by the inspired handle of joe_hill. He blabs about all things pop culture over on his Tumblr, Joe Hill's Thrills. Now and then he even updates this website.
Kate Mulgrew is an American actress noted for her roles as Captain Kathryn Janeway on Star Trek: Voyager, Mary Ryan on Ryan's Hope, and, most recently, Galina "Red" Reznikov on Orange Is the New Black. She has performed in numerous television shows, theater productions, and movies. She is the winner of a Golden Satellite Award, a Saturn Award, and an Obie Award and has been nominated for a Golden Globe and an Emmy.
Reviewed by: