On the Chase Audiobook

By:
Katie Ruggle
Narrated by:

Callie Beaulieu
Published by: Tantor Media 09/05/2017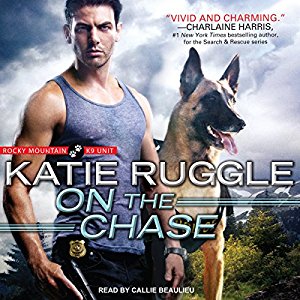 9 hrs and 21 mins

On the Chase Audiobook Sample
On the Chase Audiobook

4 Hearts
This is the second book in the Rocky Mountain K9 Unit series. This story covers the only drug sniffing K9 team in the area, Hugh Murdoch and Lexi. Hugh is supposed to be on leave from an injury, but sitting on the sidelines aren't really in his repertoire. He keeps showing up at crime scenes, much to the dismay of his captain.
The story starts off with Kaylee learning that her "Prince Charming" of a boyfriend might not be everything she thought he was. After wandering in the wrong direction of his uncle's mansion, she finds herself in a basement with three men who are tied to chairs and are very bloody. She quickly helps them get loose and runs. She calls a friend who works with domestic abuse victims and gets a new location and identity in Monroe, Colorado.
Kaylee was a bit hard to like at first. She talks a lot about her designer clothes and her large walk-in closets. She's worked really hard to get where is was in life and it seemed that the material things were the only thing she cared about. Then she moves to this small town and is living in a dumpy house with a family of siblings (the heroine of the first book along with her younger brothers and sister). She is also having to work a minimum wage job, which she gets at a dog kennel.
So Hugh and Kaylee (Grace is the name she goes by in Monroe) start to spend time together and weird things keep happening to them. Kaylee things her ex's uncle found out where she was and that she is danger to the people around her. This only makes Hugh more protective. Oh, and Hugh has a really problem with picking lock in places that he shouldn't. LOL
So this was a fun story. I was glad to see Kaylee taking to being in Monroe. I completely understand that she was upset that her live was shaken up and that her dream is no longer possible. Eventually, she figures out what she really lost when she left LA, her best friend, Penny. She really takes a liking to Jules and her family. I really liked Hugh. He is the jokester, but he is also not trusting. He has a lock picking problem, but really, he's a great guy. I love how much he cares for his partner/K9, Lexi.
I highly recommend this series if you like romantic suspense with some humor mixed in. You will get the small town life with fun characters. The police dogs are large parts of the story, which is a huge plus for me. You could read this book without having read book one, but I think you should read book one, because it is a really fun story.
On the Chase Narration
4 Hearts
Again, Callie Beaulieu does a great job with the narration of this series. I love her voices for all the characters, both men and women. I still think her best work is with Sam, the oldest brother of Jules (from book one). Sam has a really bad stutter and I think Callie does a great job with it.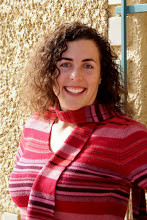 Author: Katie Ruggle
A fan of the old adage "write what you know", Katie Ruggle lived in an off-grid, solar- and wind-powered house in the Rocky Mountains until her family lured her back to Minnesota. When she's not writing, Katie rides horses, shoots guns (not while riding, although that would be awesome), cross-country skis (badly) and travels to warm places where she can scuba dive. A graduate of the Police Academy, Katie received her ice-rescue certification and can attest that the reservoirs in the Colorado mountains really are that cold. A fan of anything that makes her feel like a bad-ass, she has trained in Krav Maga, boxing and gymnastics.
Narrator Callie Beaulieu
Callie Beaulieu has been an actress for several decades. Classically trained, she is predominantly a theater actress, and her work has been seen around the country. Callie recently returned to the States after spending nearly a decade living in the Caribbean. She is a proud member of Actors Equity Association and SAG-AFTRA.
I like to thanks Tantor Media for providing me with a copy of this audiobook in exchange for an honest review.
Reviewed by: