Otherworld Chills Audiobook
By: 
Kelley Armstrong
Narrated by:
Emily Durante
Published by: Recorded Books 10/04/16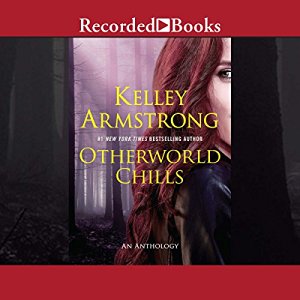 14 hrs and 19 mins mins

Otherworld Chills Audiobook Sample
Otherworld Chills Audiobook

4 Hearts
This is another collection of stories from the Women of the Otherworld series by Kelley Armstrong. This is the fifth book that she's put out of these short stories. I really love this series and having these short stories has been great, especially since the series came to an end back in 2012. I keep all of these collections on my iPod to listen to if I ever need just a short story between books. I love that I can listen to a story here and a story there.
Brazen
Subterranean Press 2013 Nick novella
If you haven't read Thirteen, this story is full of spoilers, none in review
It was great to get to spend some time with Nick, a werewolf. He teams up with Vanessa, who is a half demon. They're on the search for someone that the pack wants dead (I won't give away that spoilers). Nick is a really fun character and I enjoyed my time with him. There is a bit of romance between Nick and Vanessa, but with no more stories coming for this series, I wish we had been told if this was the real deal or just a fling. I would've like to know if Nick finally found the woman for him.
Amityville Horrible
Subterranean Press Jaime/Jeremy novella
This story is about Jaime, who is a necromancer. While she could raise the dead, that is not something that she does. Mostly, she talks to ghosts. She is also a TV spiritualist, but she doesn't use her powers for that, because people just want to be told that their dead relatives are happy. In this story, her publicist or agent (I don't remember which), convinces her to do a reality TV show. While this has been done with a Jaime story in the past (Jaime's full-length book, No Humans Involved), there are differences which makes me actually like this short story better.
Chaotic
Hope/Karl novella from Dates from Hell, Hope's 1st appearance in the series
I so love this story. Hope and Karl are my second favorite couple in this world (Clay and Elena will always be #1). Hope is a half demon that thrives on chaos. She also has quite the famous father, but that isn't revealed in this story. Karl is werewolf and a thief. In this story, Hope is on a horrible blind date at a museum set up by her mom. Her and Karl run into each other and then end up figuring out some strange stuff going on in the museum. A really fun story. So glad to revisit it.
Sorry Seems to be the Hardest Word
Zoe short story from Expiration Date
This story features Zoe Takano and Cassandra DuCharme. They are both vampires. Cassie is coming close to the end of her life (vampires are just very long lived, not completely immortal) and has come to ask Zoe to take her place on the Interracial Council. Cassie owes Zoe an apology, but doesn't want to give it. They also deal with a group of humans called immortality questers.
Off-Duty Angel
Eve/Kristof story from The Hunter & The Hunted
Eve is not my favorite character. I really didn't enjoy her full-length novels, but I have enjoyed her short stories way more. In this story, Kristof is stuck and court and asked Eve to do a little tracking and digging, something Eve is great at.
The Puppy Plan
Logan Danvers novella from Gifted
As I mentioned above, Elena and Clay are my favorite couple. I'm also a big fan of their twin kids. The two are opposites of each other, Kate is more like her dad and Logan is more like his mom. Logan wanted to get the perfect gift for Christmas for his sister. When he finds a bag on the side of the road with one still living puppy in it. His parents have told the kids no to puppies right not. Logan is convinced that this is a sign that they should have a puppy. Logan, rarely the rule breaker of the twins, breaks some rules while trying to take care of the puppy. He also struggles with how to ask his parents about the puppy. Such a cute story. Best read in the book, in my opinion.
Baby Boom
New Paige/Lucas novella
This story takes place after all the other books in the series. I'm not exactly sure how far after the last book it is. Savannah is pregnant. We learn more about the future for the Cortez Cabal. Some of the board members try to make things go their way, which causes a lot of issues for our main couple, Paige and Lucas.
Overall a very fun read. I wouldn't recommend to anyone who hasn't read at least some of the books (Brazen I would recommend that you finish all the full-length novels before reading it. There is a HUGE spoiler for Thirteen in it). I think it is best to know the characters to get the most out of these stories.
Otherworld Chills Audiobook Narration
4 Hearts
Most of the anthologies up until this point had several different narrators. I don't know why they had just one for this book, but I've listened to Emily Durante and knew going in that I would enjoy her narration. I thought she did a really good job with all the different characters in this book. The things that I would call out the most are with Cassie are the accent and telling Logan's story where he sounded like a child He's a very grown up child, but you could still hear the childhood when listening. If' you've never tried Emily Durante, I would say to give her a try. I know I really enjoy her.
Author: Kelley Armstrong
I've been telling stories since before I could write. My earliest written efforts were disastrous. If asked for a story about girls and dolls, mine would invariably feature undead girls and evil dolls, much to my teachers' dismay. All efforts to make me produce "normal" stories failed. Today, I continue to spin tales of ghosts and demons and werewolves, while safely locked away in my basement writing dungeon.
Narrator Emily Durante
Emily Durante has been acting since the age of seven, performing in a number of stage plays professionally, in the community, and at the college level. Other performance credits include commercial and industrial voice work, educational live theater, and singing telegrams. She has been narrating audiobooks for over ten years. Her titles include the Midnight Twins trilogy by Jacquelyn Mitchard, Casting Off by Nicole R. Dickson, Impossible and Locked Inside both by Nancy Werlin, and Smooth Talking Stranger by Lisa Kleypas. She has also directed audiobooks, including the Earphones Award-winning performance of Heaven's Keep narrated by Buck Schirner. Emily resides in the Philadelphia area with her husband and two children.
I like to thank Recorded Books for providing me with a copy of this audiobook in exchange for an honest review.
Reviewed by: