Outbreak Audiobook

By:
Melissa F. Olson
Narrated by:

Luke Daniels
Published by: Brilliance Audio 06/05/18

3 hrs and 51 mins
Outbreak Audiobook Sample
Outbreak Audiobook

4 Hearts
In this third book in Melissa F. Olson's Nightshades series, we finally wrap up the story arc. I don't know if there will be more books set in this world, but this book does wrap up the story arc of the first three books. I really enjoyed this series. It takes everything I love about cop shows and combines them with vampires. What's not to love.
If I had to complain about this series, the stories are short. I don't feel like the author left anything out of the stories. The characters are well developed, as is the world that these characters they live in. But each book is around 4 hours long, which is really short. I am glad that she didn't just fill the story up with filler, though. I would just like more time with these characters.
Alex and Lindy have made their relationship more than a working one. But that doesn't mean they don't still have a lot of work to do. Lindy's brother, Hector, is still on a rampage. The FBI still need to catch him. Chase, Alex's best friend and second in command of the Chicago BPI team, passes along some news that is a big hit to the team.
I would highly recommend reading this series in order. Each book builds on the previous story. I think if you started here, you would be completely lost to what is going on with the vampires. I hope to see more books set in this world.
Outbreak Audiobook Narration
5 Hearts
Luke Daniels continues to narrate this series and does a fantastic job. There's a reason he is at the top of many people's favorite narrator list. He's great with a large selection of voices that are always attuned to the character's personality. He's great with both male and female voices. Pace and tone are always right where it's needed for the current scene. If you've never listened to Luke Daniels, you're really missing out.
Melissa Olson studied film and literature at the University of Southern California in Los Angeles. After a brief stint in the Hollywood studio system, Melissa moved to Madison, WI, where she eventually acquired a master's degree from UW-Milwaukee, a husband, a mortgage, two kids, two comically oversized dogs, and two chinchillas, not at all in that order. She loves Madison, but still dreams of the food in LA. (Literally. There are dreams.)
As of 2017, Melissa has published eight novels in her Old World series for 47North, two novellas for Tor.com, and a standalone mystery. Her journalism and academic work has been published in The International Journal of Comic Art, The La Crosse Tribune, U-Wire, Women on Writing.com, the compilation Images of the Modern Vampire, Litreactor.com, and Tor.com. She spends most of her non-writing professional time traveling around to conventions and conferences, where she speaks about issues related to genre, feminism, writing, and parenting.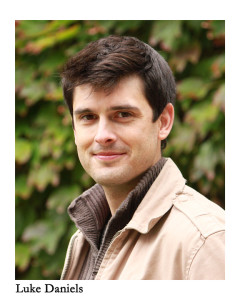 Luke Daniels was born into a family of actors. Both his father and mother have been performing and teaching for almost five decades. It is because of their influence that, from a very young age, Luke and his two brothers often found themselves in rehearsal halls at repertory theatres all over the country; watching innumerable productions of Much Ado, Julius Caesar, and Midsummer's.
Luke's first theatrical role came at the age of 5 as Fleance in a production of Macbeth. He immediately loved the creativity and camaraderie of the theatre. (It also didn't hurt that he was allowed to miss school for certain performances.)
Over the years Luke has performed at many repertory theatres across the country, including the Utah Shakespearean Festival, Connecticut Rep., and Hope Summer Rep. in Holland, Michigan. Luke has his Bachelor's from Western Michigan University and his MFA in performance from the University of Connecticut.
Luke has worked professionally as a director, teacher, audiobook narrator, voice-over, commercial, and industrial actor.
But he maintains that the greatest role he has ever played is that of a Father to his daughter.
I like to thank Brilliance Audio for providing me with a copy of this audiobook in exchange for an honest review.
Reviewed by: