Outfoxed By Love Audiobook
By:
Eve Langlais
Narrated by:
Chandra Skyye
Published by: Tantor Media  03/24/2015
Hot

5 hrs and 58 mins

Outfoxed By Love Audiobook Sample
A man of few words, Boris has a firm way of saying no, but Jan knows he's her mate. Despite some less-than-subtle overtures, she hasn't had much success in getting her bullheaded moose to notice her, but all that changes when her life is put in danger. Suddenly the damaged soldier keeps finding excuses to come to her rescue, but as far as Jan is concerned, her mate is the one in need of saving.
It will take some subtle maneuvering to outfox her moose into admitting he loves her, but this wily vixen is more than ready for the challenge. And if that doesn't work, Momma's offered to loan her the shotgun….
©2014 Eve Langlais (P)2015 Tantor

Outfoxed By Love
4.5 Hearts
I had already read this entire series before this series was released on audio, so I had already read all of the books in the Kodiak Point series before starting any of the audios. While I wasn't a huge fan of the audio of Kodiak's Claim, I still wanted to continue to give the audios a try, because I love this series.
Outfoxed by Love is one of my top two favorite books in the series. I love Boris and his very large and majestic rack. He is retired military with PTSD and he is also a Moose shifter. Don't let the fact that he is not a predator make you think he isn't a force to be reckoned with. Moose are one of the deadliest animals in Alaska, more people are actually injured each year in Alaska by moose than bears.
Jan is another great character. She is my favorite of all the females in this series. Jan is an wiley artic fox. She is also a gun nut. While she appears to be girly, as petite blonde with love of many girly things, she is more than capable in the wilds of Alaska. She has quite the weapons collection and isn't scared to use any of them. Her parents are hilarious and very manipulative to both Jan and Boris.
Outfoxed by Love starts about three quarters of the way through Kodiak's Claim. Jan has wrecked her truck and is on the run from the bad guys. Boris decided that he must protect the alpha's petite secretary before she chips a nail. Boris is in for a rude awakening when Jan decides to show him her true colors. There are much shenanigans from the villains reeking havoc on the town.
Although this book starts in the middle of the plot of the previous book, you can read this one without having read book one. I do think you will enjoy the story more with a little more background on the villain.
Outfoxed by Love Audiobook Narration
3 Hearts
Narrator Chandra Skyye
If you read my audio review of Kodiak's Claim, you know I wasn't a huge fan of the narration. I enjoyed this one better. I don't know if it is because I love the story of Boris and Jan or if the narration was truly better, but I did like it better.
I never thought the narration was horrible. I just didn't think it was a great fit for this series. The humor wasn't brought out like I felt it should. I think the humor was picked up better in Outfoxed by Love. Maybe with the first book it was a case of "it's not you, but me".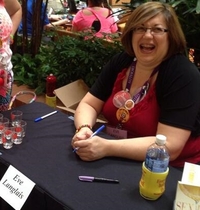 Hello, my name is Eve Langlais and I am an International Bestselling author who loves to write hot romance, usually with werewolves, cyborgs or aliens .
I should warn you, I have a twisted imagination and a sarcastic sense of humor something I like to let loose in my writing. While well known for my shifter stories, I am also extremely partial to aliens, the kind who like to abduct humans and then drive them insane…with pleasure. Or do you like something a little darker, more serious? Then check out my cyborgs whose battle with humanity have captivated readers worldwide.
Narrator Chandra Skyye
Chandra Skyye loves bringing characters and stories to life through voice acting and singing the blues. A lover of life, she spends her spare time being creative, appreciating nature, and sharing fun times with nice people and good dogs.