Polar Bared Audiobook

By:
Eve Langlais
Narrated by: Chandra

Skyye
Published by: Tantor Media 04/14/2015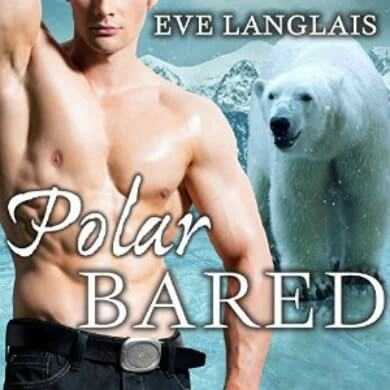 Hot


7 hrs and 22 mins
Polar Bared Audiobook Sample
Polar Bared Audiobook

4.5 Hearts
This was yet another great book in the Kodiak Point series. Once again, like the previous books in this series, I've already read this book before venturing into the audio. I found that I enjoyed Gene and Vicky's story even more the second time around.
We have already met Gene in the previous two books. He has not been a very nice guy. He has terrorized Kodiak Point throughout the first two books, but he hasn't done anything that is unredeemable. He feels that the guys in Kodiak Point left him behind back when they were in the military together and that he was just getting his revenge. The boys thought he was dead, so they didn't leave him behind on purpose.
Gene has decided to go live in the wilds of Alaska, while he figures out how he feels out these ideas. He is spending most of his time in his polar bear form eating seals and raiding camps for pepper (easier to terrorize tourist than to go to town to get pepper).
Vicky is a newly widowed heiress. She doesn't need a job, but doesn't want to just sit at home and do nothing. She is overweight, nerdy and clumsy as an ox. She decides to go on an adventure to the north in the Alaska to research her beloved polar bears in the wild. This is all well and good until she slips while on a hike, slides down a hill and is stopped from sliding into the water by hitting a polar bear.
This is a very cute story with grumpy Gene who is trying to avoid everyone and prove to everybody what a horrible person he is. Vicky sees both Gene and her scared polar bear as her guardian angels because they keep appearing out of thin air whenever she gets into trouble. Boy, she seems to get into trouble a lot.
Some of my favorite quotes:
"Where are your glasses?"
She shrugged. "Lost. How did you know I wore some?"
"You squint, Pima."
"Pima? My name is Vicky."
"I know what your name is. But I choose to call you Pima. Pain in my ass."
"Well excuse me, Nobody," she sassed back with the first ounce of fire he'd seen in her.
All the arguments in the world and it boiled down to he couldn't let her come to harm because of him. Bloody chivalrous side, it would emerge at the most inopportune times.
Since when do I have fucking morals? And how do I get rid of them? Morals got in the way of violence and revenge. And Gene did so enjoy dishing out violent vengeance.
Narration
3 Hearts
While I didn't love Chandra Skyye's narration, I didn't hate it either. I think she did a good job with both women and men's voices. However, it seemed to me that Vicky had the exact same voice as Jan from the previous book. The biggest thing that bother me about this is Vicky is Hispanic and the voice didn't have even the slightest bit of accent.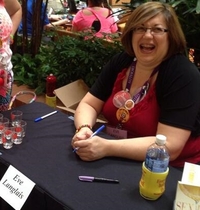 Hello, my name is Eve Langlais and I am an International Bestselling author who loves to write hot romance, usually with werewolves, cyborgs or aliens .
I should warn you, I have a twisted imagination and a sarcastic sense of humor something I like to let loose in my writing. While well known for my shifter stories, I am also extremely partial to aliens, the kind who like to abduct humans and then drive them insane…with pleasure. Or do you like something a little darker, more serious? Then check out my cyborgs whose battle with humanity have captivated readers worldwide.
Narrator Chandra Skyye
Chandra Skyye loves bringing characters and stories to life through voice acting and singing the blues. A lover of life, she spends her spare time being creative, appreciating nature, and sharing fun times with nice people and good dogs.
I like to thanks Tantor Media for providing me with a copy of this audiobook in exchange for an honest review.
Reviewed by: