Python's Embrace Audiobook

By:
Eve Langlais
Narrated by: Chandra

Skyye
Published by: Tantor Media 04/13/2016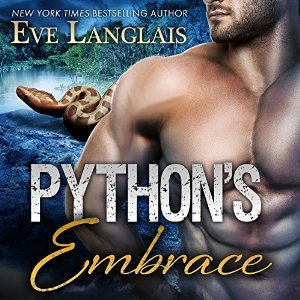 5 hrs and 46 mins

Python's Embrace Audiobook Sample
Python's Embrace Audiobook

4 Hearts
In the continuation of the Bitten Point series, we have Constantine, brother to Caleb, the hero of the first book, Croc's Return. Constantine happens across a muddy mess of a girl in the swap while he is walking his little dog, Princess. He offers to take her back to the house to get cleaned up. Once she is clean, he realized that she is the girl that everyone's been searching for. He's also quite drawn to her, but snakes are not known for staying around, just ask his father who has been MIA since before his birth.
Aria is on the run, but she's also got some amnesia. Some things are coming back in bits and pieces. Aria is quite drawn to Constantine, but his little dog will have none of it. She is quite the jealous little thing.
The suspense in this story continues to go forward at a great pace. We learn even more about the strange hybrids running around town. We also learn more about who is behind them. There is some time spent with some of the characters of previous books, mostly the guys, but some of the girls too. We are also introduced to the couple that will be in the next, and what I think is the final book in this series. I would recommend reading this series in order. I know many PNR books, you can read however, but suspense part of this series does build on the previous books, so there, you would be a little bit lost.
"Who are you?" "Constantine Xavier Boudreaux." She blinked. "Wow, that's a mouthful." Only too late did she realize how that sounded, and judging by the grin stretching his lips, so did he. "More than a mouthful, and handful."
"Why the eff are you stripping right now?" Aria yelled, not having run away as he told her to.
"Gonna unleash my mighty snake."
"That better not be a reference to your dick."
Python's Embrace Narration
3 Hearts
Chandra Skyye has done a great job with narration of this book. Not only did she continue do a great job with the male and female voices. She also had to handle the snake that spoke to Constantine in his head with the long s's. Also, there is a lot of dialogue of the hybrid characters. She did a great job with their narrations.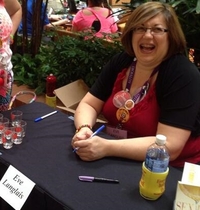 Hello, my name is Eve Langlais and I am an International Bestselling author who loves to write hot romance, usually with werewolves, cyborgs or aliens .
I should warn you, I have a twisted imagination and a sarcastic sense of humor something I like to let loose in my writing. While well known for my shifter stories, I am also extremely partial to aliens, the kind who like to abduct humans and then drive them insane…with pleasure. Or do you like something a little darker, more serious? Then check out my cyborgs whose battle with humanity have captivated readers worldwide.
Narrator Chandra Skyye
Chandra Skyye loves bringing characters and stories to life through voice acting and singing the blues. A lover of life, she spends her spare time being creative, appreciating nature, and sharing fun times with nice people and good dogs.
I like to thanks Tantor Media for providing me with a copy of this audiobook in exchange for an honest review.
Reviewed by: