Rebel Audiobook

By:
Eve Langlais
Narrated by:

Chandra Skyye
Published by: Tantor Media 02/14/2017

9 hrs and 22 mins
Rebel Audiobook

4 Hearts
This is a really difficult review to write. There is so much I can't say or I will be spoiling the previous book if you haven't read it yet. What I can tell you is that this is a fabulous series. It is something that is completely different from Eve Langlais's other books. Sure, this one is funny, but this story focuses way more on the story than the humor or romance. And that's not a bad thing at all. I love seeing how she is taking this science fiction story.
So here's what I can tell you without spoilers. We learn a lot about Rafe's culture, the Rhomanii. We go back to his home and meet his mother. She is not a nice person. She has kept a lot of secrets. Rafe still holds a lot against her for how he was raised. He still feels abandoned by her. He was sent away to a deserted planet and raised by tutors and nannies. Now his mother did this because she feared for his life, but it was still hard to grow up without that love.
We also learn a lot about his home. The Rhomanii don't have a planet. They live on the "Wheel". They are true gypsies in that were roamers. Their home was a group of ships that were interconnected with many rings and spokes in the wheel. The more powerful the family, the closer to the center they were. There is a Citadel at the center of the circle. The Citadel is where the arch duke of the enclave is. The current arch duke is Rafe's uncle who banished not only Rafe, but also Mikhail many years ago. Now, Rafe's dear uncle has ordered them back.
Emma continues to be a great character. Even if she is a damsel in distress constantly. One of her issues is that she tries to see good in people. The people in space aren't as friendly as the people on Earth (that's really saying something, isn't it). She is still in a very close relationship with Rafe, much to Mikhail's dismay. I kinda feel bad for poor Mikhail. I really hope that he finds someone.
I would be remissed if I didn't mention J.D. and Fred, the imp. These are two great secondary characters that we met in the second book. They are both great characters. I hope we see them both in the final book. I'm really excited to see where Ms. Langlais takes us in the conclusion of this series, King. Will Rafe fulfill the prophecy? I guess we won't know until the final book comes out.
Rebel Narration
3.5 Hearts
I don't what to say about Chandra Skyye that I haven't said so far. She narrates so many series for Eve Langlais. She's an okay narrator that I've gotten used to. She is okay at keeping the character's voices consistent. She does men and women okay.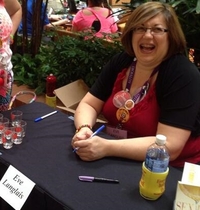 Hello, my name is Eve Langlais and I am an International Bestselling author who loves to write hot romance, usually with werewolves, cyborgs or aliens .
I should warn you, I have a twisted imagination and a sarcastic sense of humor something I like to let loose in my writing. While well known for my shifter stories, I am also extremely partial to aliens, the kind who like to abduct humans and then drive them insane…with pleasure. Or do you like something a little darker, more serious? Then check out my cyborgs whose battle with humanity have captivated readers worldwide.
Narrator Chandra Skyye
Chandra Skyye loves bringing characters and stories to life through voice acting and singing the blues. A lover of life, she spends her spare time being creative, appreciating nature, and sharing fun times with nice people and good dogs.
I like to thanks Tantor Media for providing me with a copy of this audiobook in exchange for an honest review.
Reviewed by: