Rise Audiobook

By: 

Mira Grant
Narrated by: 

Christine Lakin, John Glouchevich, Nicholas Guy Smith
Published by: Hachette Audio 06/21/16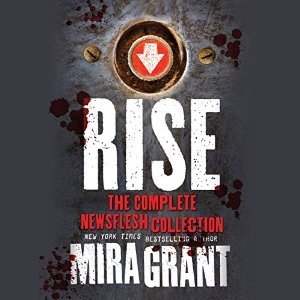 24 hrs and 46 mins
Rise Audiobook

4.5 Hearts
This is a collection of stories that are set in the world of the Newsflesh series. Many of these stories have been previously released in some form, but Countdown is the only one that I was familiar with prior to starting this anthology. I really believe that this collection is a must read/listen to fans of the Newsflesh series. If you haven't started the Newsflesh trilogy, there are some stories here that will have spoilers for the series. I would recommend reading/listening to the first three books before tackling this one. If you haven't started this series, it is a really fun zombie series, with a mix of horror, suspense, humor and even some romance. For me, it was the mix of horror and humor that made this series so much fun, not to mention the wonderful characters.
Countdown
This story is about how The Rising comes about. Amanda Amberlee is cured of leukemia with the Amberlee Virus. Then there is Dr. Kellis, who is working on the cure for the common cold. However, it is still in the testing stage until some morons decide to release it upon the world so that everyone is cured, not just the people with money. When the two viruses come together, they create the Kellis Amberlee Virus, which causes the zombies.
Everglades
This story was very short and follows a girl named Debbie who was on a college campus during The Rising. She uses some survivalist knowledge she got from her grandfather to stay safe during the initial outbreak.
San Diego 2014: The Last Stand of the California Browncoats
This story is one of my favorites in this anthology. It is about The Rising starting at ComicCon in San Diego. Can you imagine that? Trying to deal with a brand new outbreak of zombies, which you didn't know were real, at ComicCon. There were some really great characters. The story is told from Mahir who is interviewing a survivor. The story breaks from the main storytelling to have Mahir and Lorelei Tuttle have discussions about the story she is telling Mahir, even though is told from several POVs.
How Green This Land, How Blue This Sea
This is another favorite. It takes place after the third book in the series. Mahir travels to Australia to see how things are done there. They have much more lax security there. He ponders that it is because the Australians have been dealing nature trying to kill them for years. Were zombies that much different?
There was one thing that no one considered, however: Australia was populated by Australians. When the rest of us were trying to adapt to a world that suddenly seemed bent on eradicating the human race, the Australians had been dealing with a hostile environment for centuries. They looked upon our zombie apocalypse, and they were not impressed.
The Day the Dead Came to Show and Tell
This story is about a kindergarten teacher and her class as she tries to save them when there is an outbreak at her school. Now, this doesn't take place during The Rising. I can't remember how long after, but there was security in place to help prevent outbreaks. Kids were strapped to their desks and there was blood tests throughout the school. Also, the teachers wore protective gear when they went out for recess and even carried guns.
Please Do Not Taunt the Octopus
This was a great story about Dr. Shannon Abbey. We meet her in the second book. She is quite a lot of fun. She is a bit of a mad scientist. She runs an underground virology lab and does tests that the CDC can't because of many bureaucratic reasons. I love Shannon Abbey. She is the right mix of crazy and smarts.
All The Pretty Little Horses (Brand New Story)
This is the story of how Shaun and Georgia's parents become the legendary bloggers that they become just a few years after The Rising. It has been three years since Stacy and Michael Mason lost their son, Phillip, to The Rising. Specifically, a beloved neighbor's dog turned (yes, all mammals over a certain weight of about 40 pounds, if I remember correctly, can be turned) and let's just say Phillip was too young to turn. Stacy puts Phillip out of his misery and the courts rule that it wasn't murder, but Stacy doesn't see it that way. Michael starts to look for anything to get her out of bed and acting like a living human being again. They go to clear out areas that are deemed unsuitable and look for survivors in infested areas. They become the journalist of this new world.
Coming to You Live (Brand New Story)
This story takes place at the end of the series. It features all the characters we've come to love throughout the series. I'm not going to mention names for people who haven't read the series yet. I don't want you to know who lives and who dies, because there are a lot of deaths of beloved characters in this series. While I really enjoyed seeing all my favorite characters from this series, I don't know that I really liked the story itself. I think it was better with how the series ended than what happened in this story. I guess it was great for the characters to all come together again, but for me personally, I would've prefered things left the way they were. So not horrible, but my least favorite story in this collection.
Rise Audiobook Narration
4 Hearts
These were all new-to-me narrators. I have no idea why they haven't picked narrators for this series and stuck with them. I think there has been at least one narrator change for each book, which is frustrating as a listener. That being said, I thought all three of these narrators did a great job. All the narrators in this series, in all the books, have done an amazing job. I would just like to see consistency across the series. If given the choice, I would still go back and listen to these books over reading them. One, because I prefer to listen. Two, I think each of the different narrators have done a great job.
I like to thank Hachette Audio for providing me with a copy of this audiobook in exchange for an honest review.
Reviewed by: