Run to Ground Audiobook

By:
Katie Ruggle
Narrated by:

Callie Beaulieu
Published by: Tantor Media 06/06/2017

9 hrs and 28 mins
Run to Ground Audiobook Sample
Run to Ground Audiobook

4 Hearts
I became a fan of Katie Ruggle with her Search & Rescue series. So I jumped on this book when I saw it was available. It has the same first responder in a small town feel to it. It is set in a small town not far from the Search & Rescue series. There is even a character cross over, but feel free to start with this book. You will not be at all lost if you haven't read Search & Rescue before starting this series (though I highly recommend S&R just because it is fun).
Both the hero and heroine of this story have a lot of baggage. The hero just lost his partner (as in he is a cop and his cop partner). His partner was not just his partner, but also his mentor and best friend. So you can imagine the devastation when his partner commits suicide. Now Theodore Bosco has been partnered with his partner's dog. The dog is also devastated and doesn't want to work. They are both very broody.
Jules has her own baggage. She is on the run. She has kidnapped her three brothers and her sister. Her father has alzheimer's and her step-mom is evil, but plays the mother of the year routin well in front of other people. She will never get custody of them, no matter how good of a lawyer she finds. That is when she is offered help from an unexpected relative of her former boss (who is now in prison). She is relocated to a small town in Colorado, which is far away from Florida and her family.
This is another fun story from Katie Ruggle. I love the characters that she writes. I really loved Jules and Theo. I loved Jule's oldest brother, Sam the best. He is really a great kid. They are all great kids, but there is just something about Sam-I-Am, that I loved. Viggie, Theo's bomb dog, was another great character. It can be so hard on the pets when their owner died, but Viggie wasn't just a pet, but a work partner too. They were always together. I completely believe that a police dog would refuse to work after the death of the human partner.
Run to Ground Narration
4 Hearts
This is my first book with Callie Beaulieu narrating. I will admit that I was a little bummed when I saw that they didn't continue with the same narrator that they used for the Search and Rescue series, Rachel Dulude. I really liked Rachel. After listening to Callie, I do enjoy her narration, but not quite as much as Rachel's. There were some time where I think it was a little hard to tell who was talking, some of the voices were similar and I think she broke out of a character's voice more than once. I do have to give her a big plus for voicing Sam. He has a really bad stutter and she did a great job of getting his stutter down. I think the voices of the other kids were good too. Still a good listen.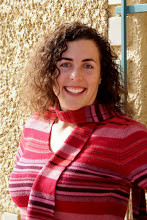 Author: Katie Ruggle
A fan of the old adage "write what you know", Katie Ruggle lived in an off-grid, solar- and wind-powered house in the Rocky Mountains until her family lured her back to Minnesota. When she's not writing, Katie rides horses, shoots guns (not while riding, although that would be awesome), cross-country skis (badly) and travels to warm places where she can scuba dive. A graduate of the Police Academy, Katie received her ice-rescue certification and can attest that the reservoirs in the Colorado mountains really are that cold. A fan of anything that makes her feel like a bad-ass, she has trained in Krav Maga, boxing and gymnastics.
Narrator Callie Beaulieu
Callie Beaulieu has been an actress for several decades. Classically trained, she is predominantly a theater actress, and her work has been seen around the country. Callie recently returned to the States after spending nearly a decade living in the Caribbean. She is a proud member of Actors Equity Association and SAG-AFTRA.
I like to thanks Tantor Media for providing me with a copy of this audiobook in exchange for an honest review.
Reviewed by: