Sapphire Flames Audiobook

By:
Ilona Andrews
Narrated by:

Emily Rankin
Published by: HarperAudio 08/27/2019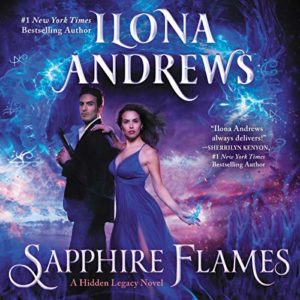 12 hrs and 32 mins

Sapphire Flames Audiobook Sample
Sapphire Flames Audiobook

4 Hearts
I've been a huge fan of the Ilona Andrews writing team ever since I read Magic Bites back in 2010. Their writing style full of action and snark has been right up my alley and is a great go-to for when I need something to lift my spirits. I've had fun with every series that I've read from them including Kate Daniels (and spinoffs of Kate stories), The Edge, The Innkeeper's Chornicles, The Kinsmen and of course, Hidden Legacy. They always write characters that I would love to sit down and have a drink with (but would never want to trade places with them).
With Sapphire Flames, the Hidden Legacy series changes course (which shouldn't surprise anyone who read the novella, Diamond Fire). Instead of time with Nevada and Mad Rogan, we are now following Nevada's little sister Catalina who has taken over the family business. This story takes place quite a bit after that novella. Nevada has decided to join House Rogan, which means that she must let her family make it on their own as a House. Catalina is now head of House Baylor and it is something that she takes very seriously.
They are struggling for money and take a case that they probably shouldn't take. But I think there is also some emotion in this gester too, as a friends' mother and sister are killed and her brother is ready to kill himself rather than deal with things. Things get much worse as the people who killed the mother, want to see the entire line gone.
There are some things that I noticed when I was listening to this story. I'm not sure if it was because I was in a bit of a bad mood when I was listening, so I picked this story apart more than I normally would, but there are an awful lot of similarities between Nevada and Catalina. Both have extremely strong powers that they are trying to hide from the rest of the world. They both have crazy stalker guys following them. And they are both struggling to run the family business. This felt a little bit like a rehash of the same story, but yet different. All that being said, I still had a great time with this story and I'm still very excited for the next part of Catalina's story.
Sapphire Flames Audiobook Narration
4.5 Hearts
I got my first listen to Emily Rankin when she narrated most of Diamond Fire novella. I like Rankin, but not as much as I like Renee Raudman. I guess I'm just still a little upset at the change of narrator. I thought that Andrews/Raudman team was just great and I'm sad that it appears that it might be over. Did I mention that I've been in a bit of bitchy mood? That is probably where some of that is coming from. Again, that being said. Rankin does a great job. I really enjoyed her narration of this story. I'm sure I will continue to enjoy her narration. Her voices are perfect for the personalities in this story. I would listen to her read other stories in the future.
Ilona Andrews is the pseudonym for a husband-and-wife writing team. Ilona is a native-born Russian and Gordon is a former communications sergeant in the U.S. Army. Contrary to popular belief, Gordon was never an intelligence officer with a license to kill, and Ilona was never the mysterious Russian spy who seduced him. They met in college, in English Composition 101, where Ilona got a better grade. (Gordon is still sore about that.)
Gordon and Ilona currently reside in Texas with their two children, and many dogs and cats. They have co-authored two series, the bestselling urban fantasy of Kate Daniels and romantic urban fantasy of The Edge.
Narrator: Emily Rankin
Emily Rankin (previously credited as Emily Janice Card) has narrated numerous audiobooks, coauthors the manga series Laddertop, and created the popular web short Jane Austen's Fight Club.
I like to thank HarperAudio for providing me with a copy of this audiobook in exchange for an honest review.
Reviewed by: