Scourged Audiobook
By:
Kevin Hearne
Narrated by:
Luke Daniels
Published by Random House Audio 04/02/18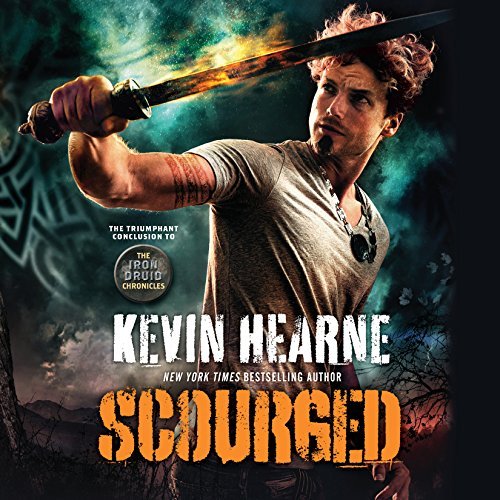 8 hrs 57 mins
Scourged Audiobook Sample
Scourged Audiobook

4.5 Hearts
Where to begin with this review? I was late to the Iron Druid party. I just picked up Hounded back 2016, but I flew through the books until I got caught up. Now, I'm at the last book in the series. I started this book with lots of anticipation and dread. Anticipation because I love Atticus, Oberon, Granuaile and Owen. Dread because I don't want the story to end, but alas, all good things must come to an end.
This story starts off with Oberon (at least if you're listening) to doing a recap of where we've been since the beginning of the series. So much as happened to Atticus and the gang. There are things that Atticus has done that he knows he's going to have to pay for. Mostly, when he killed the Norns and brought about Ragnarok. It is time for him to pay the piper.
So mostly, this story is about Atticus trying to fight Loki and prevent the end of the world. I don't want to go into this plot because, spoilers. Let's just say there is a large battle and leave it at that.
We get to catch up with most of the characters from the series. We don't really see any of the pack, except Greta with Owen. But we see most everyone else, include Leif, Lacksha, Brigit, Flidas, Manannan mac Lir, The Morigan, and The Sisters of the Three Auroras. Oh, and Orla had her puppies.
One of the things I loved about this was the dogs, as always. Oberon is one of my all-time favorite characters. I'm so happy to hear that we will get at least one more Meaty Mysteries story (and I'm praying to all the gods from the Iron Druids series, that we will get more than one). I really liked Starbuck, who is still struggling to learn to speak.
"Yes, food!"
"Good human"
There are new additions to this series too. My favorite is SloMo the sloth. She befriends Owen, who she calls Oak Druid. She was truly a character that made me smile. I kept picturing the sloths from Zootopia as Luke Daniels voiced her.
This was a tough ending. It isn't all happy ever after, but I don't think it is all bad either. Things happen to several characters than change the course of their lives. I thought the ending was fitting, even if it made me sad. I wish all these characters to have happy lives from here on out. I will miss them all. I'm sure I will start the series over again one day from the beginning.
Scourged Audiobook Narration
5 Hearts
Luke Daniels again nailed the narration. Great male and female characters. Perfect accents. The voices of the dogs and SloMo the sloth are great. He is one of the all-time greats. If you don't listen to this series, you're really missing out. I can't recommend this series on audio enough.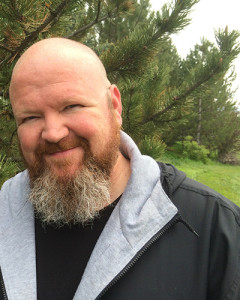 Kevin is the author of The Iron Druid Chronicles, an urban fantasy series published by Del Rey Books. The first six books of the series are now out as well as a novella that's book 4.5 and some other short works. The seventh book, SHATTERED, will be released June 17.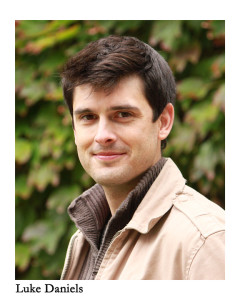 Luke Daniels was born into a family of actors. Both his father and mother have been performing and teaching for almost five decades. It is because of their influence that, from a very young age, Luke and his two brothers often found themselves in rehearsal halls at repertory theatres all over the country; watching innumerable productions of Much Ado, Julius Caesar, and Midsummer's.
Luke's first theatrical role came at the age of 5 as Fleance in a production of Macbeth. He immediately loved the creativity and camaraderie of the theatre. (It also didn't hurt that he was allowed to miss school for certain performances.)
Over the years Luke has performed at many repertory theatres across the country, including the Utah Shakespearean Festival, Connecticut Rep., and Hope Summer Rep. in Holland, Michigan. Luke has his Bachelor's from Western Michigan University and his MFA in performance from the University of Connecticut.
Luke has worked professionally as a director, teacher, audiobook narrator, voice-over, commercial, and industrial actor.
But he maintains that the greatest role he has ever played is that of a Father to his daughter.
Reviewed by