Selkies Are a Girl's Best Friend Audiobook

Published by: Audible Studios 8/27/19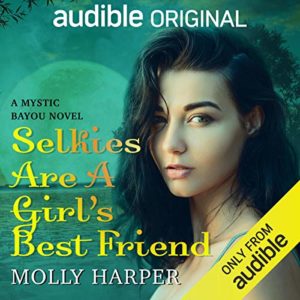 6 hrs and 33 mins
Selkies Are a Girl's Best Friend Audiobook Sample
Selkies Are a Girl's Best Friend Audiobook

4 Hearts
I'm really loving this series set in the fictional town of Mystic Bayou. I love reading (or well, listening) about different mythical creatures that you don't see in many paranormal romance stories. In this one, we have a selkie. While I'm aware of the species, I'm not all that familiar with the details about them. I love how Molly Harper gives us a few different myths about selkies and then goes on to show us which version of the myths she decided to make "real".
As with most stories that I enjoy, it is the secondary characters that I really like and with this series, that hasn't changed. The only big difference is that they were main characters in previous stories and I'm so glad that they continue to have larger roles in the later stores. Zed and Bael are just great. I love the two of them together. I hope we continue to see them in future books.
The couple in this book are a lot of fun too. Sonja works for League for Interspecies Cooperation as director of the research center in Mystic Bayou. She's one of those people that just makes things happen and gets the job done. If it weren't for her, the offices would fall into chaos. She shows that even more when her boss ends up pregnant and is vomiting fire for her morning sickness.
Dr. Will Camody was raised in Mystic Bayou, but left to become a doctor. He's now ready to come back home and be the town's only doctor. The people in the town will be able to tell their full concerns to Dr. Camody because he is like them. He's the selkie. His brother has been in town and a bit of a recluse. I really liked his brother a lot too.
I'm really enjoying this story, but also the overall series arc as we learn more and more about this rift that is causing issues and so many people who want to mess with it. I can't wait to see where Harper goes next with this series.
Selkies Are a Girl's Best Friend Audiobook Narration
4.5 Hearts
It is no secret that I'm a huge Amanda Ronconi fan. I always stop to look at any book with her name listed as the narrator. I first learned of her narration by trying Molly Harper's books. I think they are a great pair. I'm not as big of a fan of Jonathan Davis. He's not bad, and I'm getting more used to him. One thing kinda drove me nuts with this story was that the two narrator's volumes were different. I found myself changing the volume every time there was a switch in narrator. I still love this series and I still think that I enjoy listening more than I would enjoy reading. I do feel that the narrators do help bring the story to life.
Being a huge fan of vampire movies and TV shows, I wondered, what would be the most humiliating way possible to be turned into a vampire- a story that a vampire would be embarrassed to share with their vampire buddies over a nice glass of Type O. Well, first, you'd have to make the protaganist a bit of an accidental loser. She's single, almost 30, and a librarian working in the small Kentucky town where she grew up. This "triple whammy of worry" has made her a permanent fixture on her Mama's prayer list. And despite the fact that's pretty good at her job, she just got canned so her boss could replace her with someone who occasionally starts workplace fires. She drowns her sorrows at the local faux nostalgia-themed sports bar and during the commute home, she's mistaken for a deer and then shot by a drunk hunter. And then she wakes up as a vampire.
And thus, Jane Jameson and the wacky denizens of Half-Moon Hollow were born.
It took me almost a year to complete and edit a draft of the book, which I planned as the first in a three-book series. I spent three months using agentquery.com to ruthlessly stalk potential literary agents. (There were a lot of lists involved, I don't want to re-live it.) I was gently rejected by at least half of them. I corresponded with some very nice, very patient people, but ultimately signed with the fabulous Stephany Evans of Fine Print Literary Management. Stephany was willing to take to the time to give me advice on how to imp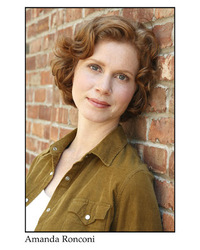 I am an actress, narrator and writer who divides my time between New York City and Upstate New York.  I have a BFA from NYU where I studied at the Stella Adler Conservatory.  I have performed in theaters around New York City as well as regionally at The Alley, Capital Rep and many productions at the Shakespeare Theatre of New Jersey.
My Off-Broadway solo comedy, Shirley at the Tropicana, received critical acclaim and was subsequently featured in The New York Times.  Film and TV credits include Daydream Believer (Slamdance 2001's Best Dramatic Feature winner), The Understudy, Deadly Sins (ID Discovery), IFC's Get Hit and Chasing Paradise. National network and regional commercials include Chase Bank, Sony and Blue Cross/Blue Shield.  My voiceover work encompasses over 70 audiobooks available on Audible.com.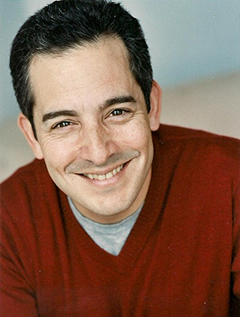 Narrator: Jonathan Davis
Jonathan Davis, a three-time recipient and fourteen-time nominee of the Audie Award, has earned accolades for his narration from the New York Times, Publishers Weekly, the American Library Association, Booklist, the Audio Publishers Association, AudioFile magazine, and USA Today. He has narrated a variety of bestsellers and award-winners for top publishing houses and national audio divisions, including Penguin Random House Audio, Harper Audio, Hachette Audio, Recorded Books, Blackstone Audio, Macmillan Audio, Simon & Schuster Audio, and Audible, Inc. He has narrated over forty titles of the Star Wars franchise for Lucasfilm Ltd./PRH Audio, including several iconic movie tie-ins, has participated with Star Wars Celebration, and has built a significant fan base. Jonathan's work as a narrator includes films and programming for National Geographic Television, NOVA, PBS, VH1, and Francis Ford Coppola.
Jonathan was recently inducted into the Audible Narrator Hall of Fame.
I like to thank Audible Studios for providing me with a copy of this Audiobook in exchange for an honest review.
Reviewed by: