Sense and Sensibility Audiobook
By: Jane Austin

Narrated by: Victoria McGee

Published by Trout Lake Media  05/12/2011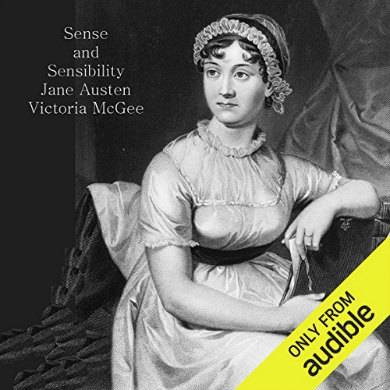 A Novel

12 hrs and 29 mins


Sense and Sensibility Audiobook Sample
Sense and Sensibility Audiobook

4.5 Hearts
I chose to listen to this Trout Lake Media production of Sense & Sensibility to participate in the Honoring Lost Friends Readathon for COYER in honor of Grace, a book blogger acquaintance's passing in the last year, and also the Going Classic group read at Austenesque Lovers. I also enjoyed listening to this one as a Buddy Read with Stormi at Books, Movies, Reviews, Oh My! blog. And, now that you have my reasons for picking it up, I'll get into what I thought of the book this latest go around.
Sense & Sensibility follows the lives of the Dashwood sisters and their extended relations and friends as they fall from wealth and status on the death of their father, Mr. Henry Dashwood, and must make their way toward an uncertain future that hopefully gains them a bit of happiness in the end.
With the title of the book, we understand that we're getting two people who embody two different traits. Elinor, the oldest Dashwood sister, is Sense and Marianne, the middle Dashwood sister, is Sensibility. It's not a debate about which is better since there is something to be said for either trait, but more an example of not over-indulging one over the other. Both women fall in love with men who have secrets and are ineligible in their own ways, but it's what comes after discovering that their love cannot lead to being with these men that differs greatly. Elinor was cautious and prudent when she fell for Edward Ferrars and it was not on her when her hopes are dashed, rather cruelly by both Edward and another person. Marianne rushes headlong into love with a man who epitomizes all she admires in a romantic figure. But, Willoughby, even more than Edward, is unworthy of the woman who loves him and gives her an icy dowsing in the reality of the world. Circumstances take a part and in the end both find their way to happy.
This is not my first go around with this book, but it has been many years since I read/listened through it entirely. The book felt relevant and engaging today even with the older words and turns of phrase as it addresses family, character growth, love, wealth, and more. Austen was a rookie writer when she penned this one and that does show somewhat compared to her later books, but still, her grasp of people and their motivations and her wielding of wit was superb.
When I was younger, I was focused on the romances of Elinor and Marianne and agonized with them. Now, I tended to notice the comedy of this piece. Even while one layer had the girls in agony of hurt hearts, there is another layer where Austen is poking fun at the situation (Marianne and her mother could be such drama llamas) and surrounding them with some amazingly absurd people. I love to hate more than half the surrounding cast from the Mr. and Mrs. John Dashwoods, the Miss Steeles, Mrs. Ferrars, Robert Ferrars, and John Willoughby, but at the same time, they played their roles well and were well-written characters.
I've always thought the open and generous spirits of Mrs. Jennings and Sir John Middleton (the Dashwood ladies' neighbors at the great house) were great even if they tend to get nosy into everyone's business and that didn't change in this one. But, what did stand out to me about them was the role they played in showing the changes in the sisters as they grew and matured. At first, neither had much use for these people though Elinor was always polite even as she despised them while Marianne was open about it. Then as they learned about people and learned to distinguish the value of good-heartedness in spite of polish, the sisters began valuing genuine friendship and saw people like Mrs. Jennings and Sir John in a new light.
But, what also didn't change was my irritation with the ending. I still had no desire to get an equal summary of all the various characters and would have much rather focused on the principle people more after all that happened.
As to production, the editing was terrible particularly in the latter half of the book. There were a few times that there were repetitions of phrases, but worse, was when it broke off near the beginning of a chapter and leaped ahead to a new chapter so a part of the story is missing. True, I didn't pay much for my copy, but one should at least be assured that no parts are missing. I've listened to much better quality productions of the classics and would recommend Naxos if you're dropping a credit to get this story.
In summary, I enjoyed this classic book with its timeless themes once again and appreciate why I love the author's work. I think if someone is looking to read a classic that they would find Austen's lighter comedy of manners a good start.
Sense and Sensibility Audiobook Narration
3 Hearts
The narrator was Victoria McGee. I thought she had a good voice though not a lot of fluctuation between genders, ages, and classes, and under different circumstances would probably enjoy her work like a contemporary story. However, I found her a mismatch for Sense & Sensibility. Her accent didn't sound English to me and she mispronounced a handful of older words consistently through the whole piece. Why didn't anyone in the process of production catch this?
Jane Austen was an English novelist whose works of romantic fiction, set among the landed gentry, earned her a place as one of the most widely read writers in English literature, her realism and biting social commentary cementing her historical importance among scholars and critics.
Austen lived her entire life as part of a close-knit family located on the lower fringes of the English landed gentry. She was educated primarily by her father and older brothers as well as through her own reading. The steadfast support of her family was critical to her development as a professional writer. Her artistic apprenticeship lasted from her teenage years until she was about 35 years old. During this period, she experimented with various literary forms, including the epistolary novel which she tried then abandoned, and wrote and extensively revised three major novels and began a fourth. From 1811 until 1816, with the release of Sense and Sensibility (1811), Pride and Prejudice (1813), Mansfield Park (1814) and Emma (1815), she achieved success as a published writer. She wrote two additional novels, Northanger Abbey and Persuasion, both published posthumously in 1818, and began a third, which was eventually titled Sanditon, but died before completing it.
Austen's works critique the novels of sensibility of the second half of the 18th century and are part of the transition to 19th-century realism. Her plots, though fundamentally comic, highlight the dependence of women on marriage to secure social standing and economic security. Her work brought her little personal fame and only a few positive reviews during her lifetime, but the publication in 1869 of her nephew's A Memoir of Jane Austen introduced her to a wider public, and by the 1940s she had become widely accepted in academia as a great English writer. The second half of the 20th century saw a proliferation of Austen scholarship and the emergence of a Janeite fan culture.
Pleasant, friendly voice OR wacky characters
My voice ranges from a little girl to a teen and on to a mature woman. I can be sexy, fun, goofy, or do friendly and warm narration. I am equally comfortable doing straight and character voices. My acting training makes me a natural to do audio books as I can interpret character and make subtle voice changes to distinguish characters in dialogue.
Reviewed by