Shadowed Audiobook
By:
Rebecca Zanetti
Narrated by: 

Karen White
Published by: Audible Studios 05/20/2015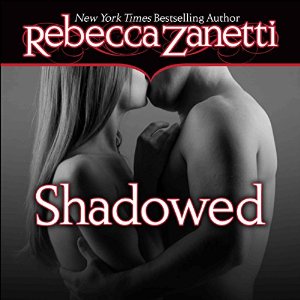 10 hrs and 22 mins

Shadowed Audiobook Sample
Shadowed Audiobook

4 Hearts
I was really excited to finally get to Jase's book. As the youngest of Kayrs brothers, he was always the funnest brother. That is until he was kidnapped and tortured by demons for five years. Not only did the demons physically torture him, but they also did some pretty bad mental torture on him. We saw some of this torture in the previous book. Once he got out, he was not whole and he was no longer the fun-loving brother that he was before capture. He had only one thing on his mind, revenge.
Brenna Dunne isn't supposed to exist according to several people. As the eight sister to a seventh sister, she is an abomination. No witch has ever had an eighth daughter before. They are supposed to stop at seven. There is also a prophecy about her, the solstice and a comet. People believe she is going to blow up the universe. Needless to say that has a target on her head. In an earlier book, she was poisoned and it has been killing her slowing ever since. In a desperate move to save her life, they decide that she needs to mate with a vampire to help heal the poison out her system. Jase agrees to this arranged mating because he wants her powers to go after the demons.
This is my favorite romance of the series so far. Both of these two are broken, in different ways, but broken none the less. They both agree to this arrange mating for different reasons. Both of them come together to be what the other needs to save themselves and to save each other. It is things that they are forced to do as a couple that will save them. Their love for each other that will help make them whole.
There is also a ton of stuff that happens with the war. Garrett, Janie's young brother, is kidnapped by the Kurjans. Janie is forced to make tough decisions which really puts her at odds with her family that wants to protect her, but she knows that she must join this war if she is going to end it. Janie's book is the next one and final book in the series. I'm excited to see how it will all wrap up.
Shadowed Audiobook Narration
4.5 Hearts
Once again, Karen White does an amazing job. Brenna has this great Irish brogue. I don't like it as much as Moira's, who also has a large part in this book, but Brenna's voice was wonderful. She also did a great job with gravelly demon voices, which I'm sure were tough to do. She continues to do a great job with men and female voices. I did listen at an increased speed, but that is normal for me.
Growing up amid the glorious backdrops and winter wonderlands of the Pacific Northwest has given Rebecca fantastic scenery and adventures to weave into her stories. She resides there with her husband, children and extended family who inspire her every day. Rebecca has completed several manuscripts, winning award throughout the writing industry for her work. She currently writes the Dark Protector series for Kensington Publishing, the Maverick Montana series for Entangled Publishing, and the Sin Brothers series for Grand Central Publishing.
Karen White is a classically trained actress who has been recording audio books since 1999 and has well over 150 books to her credit and is a proud member of SAG-AFTRA. Honored to be included in Audiofile's Best Voices 2010 and 2011, she's also an Audie Finalist and Best Audiobook of the Year winner for 2009, 2010 and 2011 (The Hemingses of Monticello by Annette Gordon Reed, Too Good to be True by Erin Arvedlund, and Everything That Rises Must Converge by Flannery O'Connor) and she has earned multiple Audiofile Earphones Awards.
I like to thank Audible Studios for providing me with a copy of this audiobook in exchange for an honest review.
Reviewed by: